By Huntley Fitzpatrick
Release Date: April 15, 2014
Source: Library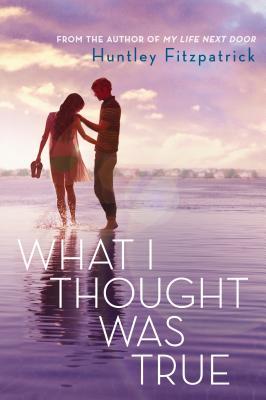 Summary:
From the author of My Life Next Door comes a swoony summertime romance full of expectation and regret, humor and hard questions.
Gwen Castle's Biggest Mistake Ever, Cassidy Somers, is slumming it as a yard boy on her Nantucket-esque island this summer. He's a rich kid from across the bridge in Stony Bay, and she hails from a family of fishermen and housecleaners who keep the island's summer people happy. Gwen worries a life of cleaning houses will be her fate too, but just when it looks like she'll never escape her past—or the island—Gwen's dad gives her some shocking advice. Sparks fly and secret histories unspool as Gwen spends a gorgeous, restless summer struggling to resolve what she thought was true—about the place she lives, the people she loves, and even herself—with what really is.
A magnetic, push-me-pull-me romance with depth, this is for fans of Sarah Dessen, Jenny Han, and Deb Caletti.
Review:
Words can't even begin to describe how excited I was to read this book. I fell in love with My Life Next Door and could not wait for another Huntley Fitzpatrick novel! That being said, though, I think my immense love for her debut novel set my expectations way too high for this book.
After making the biggest mistake of her life with Cassidy Somers, Gwen Castle wants nothing more than to stay far away from him this summer. But when Cass gets a job as the yard boy on the island Gwen lives on, Gwen finds herself running into him everywhere she goes. Gwen would rather forget the reputation she's earned thanks to Cass, but the more she spends with him, the more she finds herself wanting him around. Is everything she thought about the rich boy who seems to have it all really true, or is Cass really just like her underneath it all?
Going into this one, I was looking for an emotional story about growing up, first loves, and finding out who you are. While I think that's the direction Huntley Fitzpatrick was going for, there were too many details about this story that rubbed me the wrong way. First off, Gwen. Ugh, she bothered me. So. Much. While I know she was dealing with some issues and hated how everyone saw her as a little easy and loose with the guys, that's kind of actually how she was. I was really confused with Gwen's past with the three different guys she had slept with since the details were not revealed right away or in chronological order. I still have no idea what went on between her and the first guy she was with (Alex, I think?), or even why it happened. Gwen just talks about her past "relationships" in an ashamed, written off way that I really wanted to know the full story. Without the details, I just saw Gwen as someone who gave herself up too easily to guys, which I'm not really a fan of in main characters.
The second part of this book that bothered me were her best friends Viv and Nic. They were ALWAYS all over each other and it just got plain annoying. Gwen would literally sit there while they made out in front of her. Seriously? Who does that? I know Viv and NIc were supposed to be madly in love and have a relationship that Gwen was dying to have, but the way they supposedly were all over each other all of the time was distracting and not really that believable. I like the problems that Viv and Nic had near the end and how Gwen learned things about herself from them, but they could have toned things down a bit.
Overall, Huntley Fitzpatrick's new book just wasn't my cup of tea. I wasn't a fan of the main character or her friends and the story was jumbled and seemed to drag on. I did, though, lover how Gwen's mom and the older woman she worked for loved steamy romances. Now there's something I can connect with! While My Life Next Door is one of my favorite books, What I Thought Was True missed the mark for me.