Racing the Sun
By Karina Halle
Release Date: July 28, 2015
Source: Amazon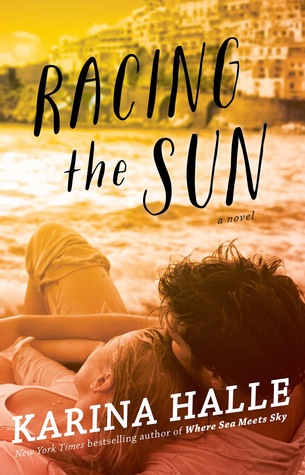 It's time for twenty-four-year-old Amber MacLean to face the music. After a frivolous six months of backpacking through New Zealand, Australia, and Southeast Asia, she finds herself broke on the Mediterranean without enough money for a plane ticket home to California. There are worse places to be stuck than the gorgeous coastline of southern Italy, but the only job she manages to secure involves teaching English to two of the brattiest children she's ever met.

It doesn't help that the children are under the care of their brooding older brother, Italian ex-motorcycle racer Desiderio Larosa. Darkly handsome and oh-so-mysterious, Derio tests Amber's patience and will at every turn—not to mention her hormones.

But when her position as teacher turns into one as full-time nanny at the crumbling old villa, Amber finds herself growing closer to the enigmatic recluse and soon has to choose between the safety of her life back in the States and the uncertainty of Derio's closely guarded heart.
Since it's summertime, I have been dying to read books that have traveling involved in them. I knew that this book was going to be a great new adult and was excited to see that the main character traveled to Italy, so I couldn't wait to read this book!
Amber MacLean has been running from life and going back home, but now that she's out of money, she's got to face her fears head on. Amanda knows that she has to find a job in Italy in order to pay for a plane ticket home and she's desperate. So when she sees a wanted ad for an English tutor for two little children, she jumps on it. The last thing she expects to find is two sad little children and their much older, brooding brother who has taken care of them ever since their parents died two years ago. Derio wants nothing to do with Amber, but they continue to butt heads as Amanda finds herself thrown into the position of being the twins' full-time nanny. The more time Amber spends with Derio, the more she sees in the dangerously handsome man.
I've got to say, this book definitely gives you the travel bug when you read it. Amber is so relatable with her desire to just travel and avoid all responsibility and the scary reality that she could have to go back a boring life doing something that she really doesn't want to do. When she accepts the job with the Larosa family, she is definitely in way over her head with twins who lost their parents way too young and a boss who is gorgeous yet unnerving at the same time. The twins were absolutely adorable and there were so many emotions with them and what they've gone through. They're just kids but they really don't have anyone.
And speaking of emotions, boy did this book have emotions. Derio had some major baggage and had gone through some horrible things in his life. I mean, he's only 27 and has to take care of his twin siblings instead of being the 20-something he was. It's so heartbreaking! Then, when you learn about what his life was like and what had happened to him, you understand why he is so cold and gloomy all of the time. It's so sad watching Amber try to understand the family and fix someone who really doesn't want to be fixed.
If you want an emotional New Adult that is definitely going to give you the travel bug, you have to pick up Racing the Sun. I know many of Karina's books have to do with traveling and I can't wait to pick more up!