A Court of Thorns and Roses
By Sarah J Maas
Release Date: May 5, 2015
Source: Own Copy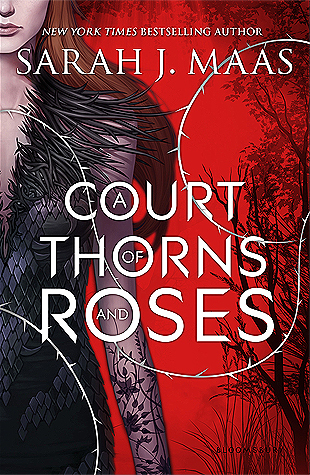 When nineteen-year-old huntress Feyre kills a wolf in the woods, a beast-like creature arrives to demand retribution for it. Dragged to a treacherous magical land she only knows about from legends, Feyre discovers that her captor is not an animal, but Tamlin—one of the lethal, immortal faeries who once ruled their world.
As she dwells on his estate, her feelings for Tamlin transform from icy hostility into a fiery passion that burns through every lie and warning she's been told about the beautiful, dangerous world of the Fae. But an ancient, wicked shadow grows over the faerie lands, and Feyre must find a way to stop it... or doom Tamlin—and his world—forever.
Going into this one, I know that there are VERY conflicted feelings over this book from readers. Some hate it, some love it, and some are in between. Some of my closest friends, though, have told me it is amazing, so I FINALLY picked up my copy. And I was swept off my feet.
When 19-year-old Feyre kills a wolf in the forest, the only thing on her mind was providing for her family. The last thing she cared about was defying a treaty with the Fairies. So when a giant beast comes to make Feyre pay for her crime, she is whisked off to the dangerous land where her captor, Tamlin, appears icy on the outside but has a serious secret waiting to be uncovered.
Oh. My. Gosh. The minute I finished this book I was SWOONING over the characters and their story. To start off, I have to say that this book takes a little bit to get into. The beginning is slow and it takes a really long time for things to be explained. Once we get into the bulk of the story and meet Tamlin and Lucien, this book picks up speed and I absolutely fell for all of the characters. They all had their own personalities and were so well developed and I loved every one of them. And I was shipping Tamlin and Feyre SO HARD. I've heard that Sarah J Maas likes to throw you for a loop in her books, so I am terrified of what could possibly happen to them in book two.
While I'm not normally a fan of fantasy, I absolutely loved this world and the trials that Feyre went through. I don't want to spoil anything, but there is intense action, suspense, and danger around every corner. And who knew that fairies could be so yummy? Seriously, the romance had me swooning and I loved the subtle chemistry that built between our characters.
If you can't tell, I am definitely on the ACOTAR bandwagon. I LOVED this book and I am already dying to get my hands on the second book (which I own but my sister is currently reading…). I loved everything about this book-- the characters, the suspense, the world….everything! I know that I've read a fabulous book when I'm honest-to-God scared for the future of the characters. I am so invested in these people and need them to have their HEA! Is that too much to ask for??