Red, White & Royal Blue
by Casey McQuiston
Release Date: May 14, 2019
Source: Netgalley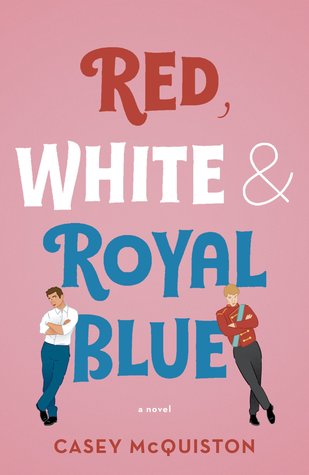 A big-hearted romantic comedy in which First Son Alex falls in love with Prince Henry of Wales after an incident of international proportions forces them to pretend to be best friends...

First Son Alex Claremont-Diaz is the closest thing to a prince this side of the Atlantic. With his intrepid sister and the Veep's genius granddaughter, they're the White House Trio, a beautiful millennial marketing strategy for his mother, President Ellen Claremont. International socialite duties do have downsides—namely, when photos of a confrontation with his longtime nemesis Prince Henry at a royal wedding leak to the tabloids and threaten American/British relations.

The plan for damage control: staging a fake friendship between the First Son and the Prince. Alex is busy enough handling his mother's bloodthirsty opponents and his own political ambitions without an uptight royal slowing him down. But beneath Henry's Prince Charming veneer, there's a soft-hearted eccentric with a dry sense of humor and more than one ghost haunting him.

As President Claremont kicks off her reelection bid, Alex finds himself hurtling into a secret relationship with Henry that could derail the campaign and upend two nations. And Henry throws everything into question for Alex, an impulsive, charming guy who thought he knew everything: What is worth the sacrifice? How do you do all the good you can do? And, most importantly, how will history remember you?
Going into this book, I had super super high expectations. All of the early reviews were RAVING about this book and it sounded like the perfect M/M. I got an e-arc from Netgalley and dove right in. Unfortunately, it took almost a month for me to read this book and it just did not live up to the hype.
First son Alex and Prince Henry have been feuding for years. When a royal wedding turns into a catastrophe, Alex and Henry must spend time together in front of the press to give the world the impression that they're best pals. As they hang out, though, animosity between the two flairs into a passion neither one of them can ignore.
When this book first started, I was all for the romance and the enemies to lovers plot line. Alex and Henry were so stinking adorable together and I loved how they slowly started to let their walls crumble as they started to fall for each other. Both of them have pretty complicated lives and responsibilities, so it was super sweet watching them fall in love. I thought the side characters were fun and I enjoyed watching a forbidden romance bloom.
That being said, the rest of the book wasn't my cup of tea. I felt like this book went on 100 pages too long because of the politics. Those politics. Yes, the main characters both belong to political families, but there was a very obvious political agenda with this book and I just didn't want it. It really took me out of the story about halfway through, which deterred me from wanting to pick this book up again. Also, this book primarily focused on the political climate in America and kind of didn't do justice to the British monarchy. Granted, we did only get Alex's perspective, but I think I would have enjoyed this book more if we got Henry's perspective and more of what was going on in his country as well. I would have felt less in-you-face American politics and more a more balanced commentary about the world in general, not just America.
Overall, I really wanted to love this book, but the political focus was too much for me. I wanted a cute romance where a prince and a first son fell in love. Instead, I got a dragged-out book where the author was blatantly telling us what was right and wrong in our political climate today.