The Bourbon Kings (The Bourbon Kings #1)
By JR Ward
Release Date: July 28, 2015
Source: Publisher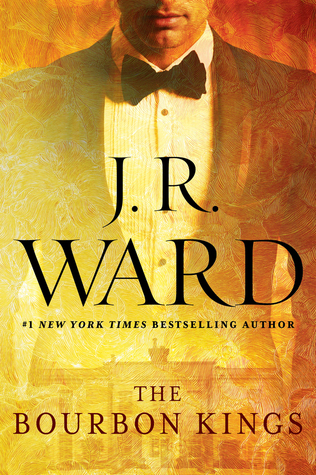 For generations, the Bradford family has worn the mantle of kings of the bourbon capital of the world. Their sustained wealth has afforded them prestige and privilege—as well as a hard-won division of class on their sprawling estate, Easterly. Upstairs, a dynasty that by all appearances plays by the rules of good fortune and good taste. Downstairs, the staff who work tirelessly to maintain the impeccable Bradford facade. And never the twain shall meet.

For Lizzie King, Easterly's head gardener, crossing that divide nearly ruined her life. Falling in love with Tulane, the prodigal son of the bourbon dynasty, was nothing that she intended or wanted—and their bitter breakup only served to prove her instincts were right. Now, after two years of staying away, Tulane is finally coming home again, and he is bringing the past with him. No one will be left unmarked: not Tulane's beautiful and ruthless wife; not his older brother, whose bitterness and bad blood know no bounds; and especially not the ironfisted Bradford patriarch, a man with few morals, fewer scruples, and many, many terrible secrets.

As family tensions—professional and intimately private—ignite, Easterly and all its inhabitants are thrown into the grips of an irrevocable transformation, and only the cunning will survive.
I have never read a JR Ward book before, though I do own many. I have heard fantastic things about her books, though, and could not wait to read her newest release about some very scandalous characters.
The Bradford Family have always been the kings of Bourbon. With millions of dollars, there is nothing they can't do. At Easterly, the Bardfords's estate, the privileged life upstairs does not mingle with the help downstairs. As Easterly's head gardener, Lizzie King learned the hard way what happens when you fall for a Bradford. She didn't mean to fall for Lane, but she did and she learns first hand that nothing with the Bradfords ever ends well. Two years later, Lane has returned to Easterly and Lizzie can't help the feelings that come back with seeing Lane again. Lane is tired of his family's drama and wants nothing more than to fix what happened with Lizzie, but as secrets and scandal erupt around the family, Lane finds his life crumbling before he can even try to rebuild it.
Wow, talk about scandalous! Seriously, reading this was as addicting as watching a soap opera. What was going to happen next? What secrets were people hiding? And boy, were there secrets! Lane's family is CRAZY and when he comes home when someone he has always been close to gets sick, he finds a very dangerous secret about his father and his family's fortune. New secrets and scandals were thrown left and right that I could not put this book down. I loved how we not only got Lane and Lizzie's story, but we also got to see what was going on with Lane's brother and sister as their family crumbled. I felt so bad for Edward and really wanted his part of the story more developed. Gin, on the other hand, was not a favorite of mine because of the fact that she had a daughter that was never even seen in the book and Gin was very promiscuous, but I did understand why she acted the way she did.
Gong onto the romance, this was definitely a second chance romance kind of story. Lizzie and Lane fell for each other two years ago, but a mistake of Lane's broke Lizzie's heart and he runs off to New York to avoid his problems for two years. Now that he's back, the intense chemistry that LIzzie and Lane share seems stronger than ever and it's impossible to stay away from each other. You want them to be together so badly, but of course there are other characters and drama that stand in their way. Like I said, definitely like a soap opera, but in a good way! I had to keep on reading to see what crazy thing would happen next and how Lizzie and Lane were going to get through everything happening.
Overall, I loved this book! There was definite heat, secrecy, and scandal to make it impossible to put down. I can't wait for the second book to figure out what exactly is going on with Lane's family (no, you don't get to figure out in this book! They gotta hook you somehow!). If you like a second chance romance with secrets and conniving characters around every corner, you must pick up The Bourbon Kings!