Jesse's Girl (Hundred Oaks #6)
By Miranda Keneally
Release Date: July 7, 2015
Source: Author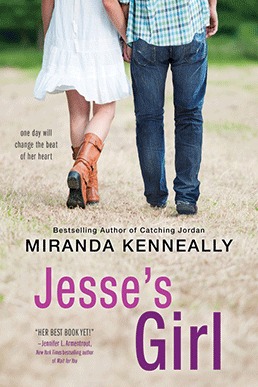 Everyone at Hundred Oaks High knows that career mentoring day is a joke. So when Maya Henry said she wanted to be a rock star, she never imagined she'd get to shadow *the* Jesse Scott, Nashville's teen idol.
But spending the day with Jesse is far from a dream come true. He's as gorgeous as his music, but seeing all that he's accomplished is just a reminder of everything Maya's lost: her trust, her boyfriend, their band, and any chance to play the music she craves. Not to mention that Jesse's pushy and opinionated. He made it on his own, and he thinks Maya's playing back up to other people's dreams. Does she have what it takes to follow her heart—and go solo?
Let me just start off this review by saying that this is a Miranda Kenneally book. I LOVE Miranda Kenneally. Beathe, Annie, Breathe is one of my favorite books ever and I just could not wait to get my hands on Jesse's Girl.
Maya Henry has always loved music, but she's never had the courage to perform alone. With her band, she can have music and also have the courage to perform on stage. When career mentoring day approaches at her school, Maya never imagined she'd be shadowing Jesse Scott, hot shot country star. When their day starts, though, Maya is tested in both her music and her patience as Jesse is brutally honest and not so trusting. But the more time they spend together and the more Jesse and Maya let each other in, Maya tries to find the courage and faith in herself to follow her dreams.
From the beginning, I loved Maya and Jesse's initial distrust for one another. Jesse was used to people using him for his fame and money, so he didn't trust Maya for one second. Maya was such a likable character with her insecurities, but also her ability to stand up to Jesse and hold her own. Maya was dealing with being dumped by her sort of boyfriend and being kicked out of her own band, so she was already feeling pretty low. As the story progressed, though, Jesse's walls started to break down and they just started to have fun and forget all of the troubles they were both facing. This had a sort of Ferris Bueller vibe where they just ran around without Jesse's agents or people and just had fun.
Most of this book takes place in a couple of days, so it's all about Maya and Jesse spending time together and pushing each other's buttons. My only issue was how Jesse would completely turn off with Maya after they made some progress because of how untrusting he was. I get that his past made it hard for him to trust people liking him for him, but it seemed more for plot than for plausibility when it happened. Other than that, though, I loved their adventures together and the special places they show each other. Also, watching Maya become more confident in herself was great and the eventual romance between them wasn't bad either!
Overall, this was another cute, heartwarming romance in MIranda Kenneally's Hundred Oaks series. It wasn't my favorite of the series (nothing can beat Breathe, Annie, Breathe), but I still really enjoyed the growth and the romance the characters experienced. Every single person needs to read Miranda's Hundred Oaks series because you're missing out on endearing characters, great romance, and real teenage experiences.