Stacking the
Shelves is a meme hosted by
Tynga's Reviews
where bloggers share what books they got throughout the week!
From Author/Publisher
How amazing do these books look?!? I'm so excited for M Leighton's and Jaci Burton's new books that showed up on my doorstep. They both look amazing and I can't wait to read them!
From Amazon
Yet another recommendation from
Sarah
! This is book three in the
Beautiful Bastard
series, but Sarah said it was her favorite, so I went ahead and ordered a $4 copy from Amazon. I can't wait to read it!
From Goodwill
I stopped by Goodwill this week and couldn't resist their little section of books. There, I found a perfect hardback of Thirteen Reasons Why and Extras for only $1 each! And then I found a perfect paperback of The Truth About Forever for only 50 cents. Seriously!??! These books had no marks, creases, or folds on them. How could I say no?
From Half Price Books
Half Price Books is having their huge coupon week going on, so yesterday and today are 40% off your highest priced item and tomorrow is 50% off your highest priced item. I went with my sister yesterday so that I could get two books at 40% off their Half Price Books price, so I got these two for only $2 each! Oh my gosh, but hunting down Dragonfly in Amber was SO HARD! I checked the regular fiction, the romance, the erotica, the paranormal/sci-fi romance, paperback romance…and you know where I found it? In the general fiction paperback section as I was walking to the register. Seriously, Half Price Books, get your system together. They had some of my favorite NA authors in both YA, romance, and erotica. Ummm, pretty sure an author's books in the same series should be in the SAME SECTION. Haha, I was just a bit frustrated. But I got to walk out with these two fabulous books, so I'm happy!
From Reading With ABC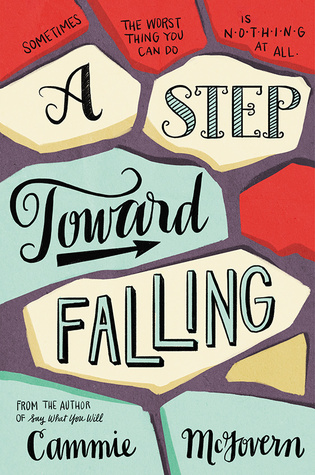 Liza from
Reading With ABC
has been doing a feature where she invites readers of her blog to "review her books" that she's been sent to review but doesn't have time to read. She sends them to people who want to read them, but who promise to review them for her to post on her blog within a month of receiving. She sent me a copy of
A Step Toward Falling
by Cammie McGovern and I could not be more excited to read it! I'll be sending my review of the book over to her blog within the month, so make sure you stop by over there! Thanks, Liza!
That's it for me! What did you all add to your shelves this week?