Don't Ever Change
By M Beth Bloom
Release Date: July 7, 2015
Source: Author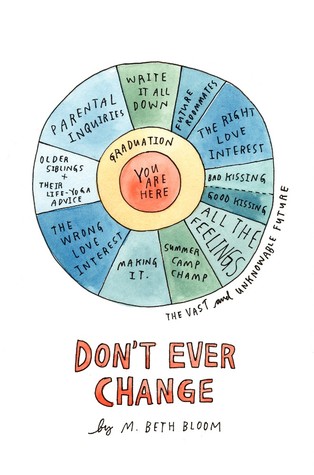 Eva has always wanted to write a modern classic—one that actually appeals to her generation. The only problem is that she has realized she can't "write what she knows" because she hasn't yet begun to live. So before heading off to college, Eva is determined to get a life worth writing about.

Soon Eva's life encounters a few unexpected plot twists. She becomes a counselor at a nearby summer camp—a job she is completely unqualified for. She starts growing apart from her best friends before they've even left for school. And most surprising of all, she begins to fall for the last guy she would have ever imagined. But no matter the roadblocks, or writer's blocks, it is all up to Eva to figure out how she wants this chapter in her story to end.

Perfect for fans of E. Lockhart, David Levithan, and Rainbow Rowell, Don't Ever Change is a witty, snarky, and thought-provoking coming-of-age young adult novel about a teen who sets out to write better fiction and, ultimately, discovers the truth about herself.
When I first read the synopsis of this book, I was very intrigued because I thought I'd be able to relate to the main character Eva. Eva is a writer who wants to experience life in order to be able to become a better writer. Sadly, I was definitely NOT a fan of Eva and the "research" she performed for her writing.
Eva knows she's a good writer. But when her English teacher tells her she needs to write what she knows, Eva is determined to go out and experience more in order to write more. The summer before college, Eva decides to "live" and soon finds her life changing in ways she had never expected.
Ugh. Seriously, that's what comes to mind when I think about Eva. First off, over the course of this book, which takes place over a couple of months, Eva had 3 or 4 guys who were all of the sudden super into her. And one of them was a guy she was kind of sort of dating but was on tour with his band, so he was never around. And when she thinks she likes another guy who I felt like she all of the sudden really liked, she didn't even think about the first guy unless he called or texted. I just could not care about any relationship she was in, even the one that ended up being the most important one. I found Eva shallow and her "connections" with the guys unrealistic.
Not only were her romantic interests not working for me, but neither were her friendships. Geez. Eva had two "best friends" but she treated them like crap and when they confronted her about it, she just whined some and they instantly forgave her. Eva is just not a good person and I really wasn't a fan of following this story from her point of view. There were some weird moments that I just found unnecessary and strange as well, like something that happens with her "boyfriend" who was in a band and with a camper (she ended up working as a camp counselor) who she found freaking out in the bathroom. While I still finished this book just to see what would happen to Eva in the end, I did not like her character or how she handled pretty much any situation in this novel.
In the end, Don't Ever Change seriously missed the mark for me. Eva was annoying and the relationships she had were unbelievable. The premise was promising, but Eva ended up being selfish, self-centered, and very pessimistic. If you don't like books with annoying characters who you just can't connect with, I'd say to skip this one.