Serafina and the Black Cloak
By Robert Beatty
Release Date: July 14, 2015
Source: Publisher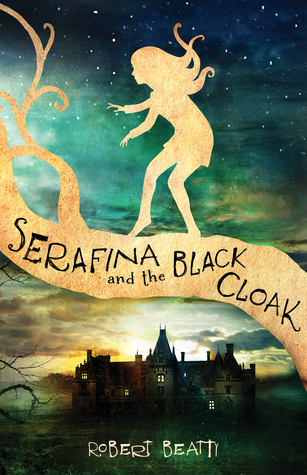 "Never go into the deep parts of the forest, for there are many dangers there and they will ensnare your soul."
Serafina has never had a reason to disobey her pa and venture beyond the grounds of Biltmore Estate. There's plenty to explore in the shadowed corridors of her vast home, but she must take care to never be seen. None of the rich folk upstairs know that Serafina exists; she and her pa, the estate's maintenance man, have secretly lived in the basement for as long as Serafina can remember.
But when children at the estate start disappearing, only Serafina knows who the culprit is: a terrifying man in a black cloak who stalks Biltmore's corridors at night. Following her own harrowing escape, Serafina risks everything by joining forces with Braeden Vanderbilt, the young nephew of Biltmore's owners. Braeden and Serafina must uncover the Man in the Black Cloak's true identity before all of the children vanish one by one.
Serafina's hunt leads her into the very forest that she has been taught to fear. There she discovers a forgotten legacy of magic that is bound to her own identity. In order to save the children of Biltmore, Serafina must seek the answers that will unlock the puzzle of her past.
I pretty much never read middle grade books. Ever. But when I had the chance to read Serafina and the Black Cloak, I was intrigued by the story described as a mystery about an unusual girl who is secretly living in the basement of a grand estate. Why is she hiding in the basement? Can she really save the day?
Serafina has lived her life obeying her Pa and living in the basement of the Biltmore Estate without being seen or heard by anyone. One night, though, changes everything. When Serafina sees a man in a black cloak stealing a girl visiting the estate, Serafina is determined to figure out who it is. Getting to the bottom of the mysterious man, though, means Serafina must put herself out there and she ends up in the path of Braeden Vanderbilt, the nephew of the Biltmore estate's owners. Serafina decides to trust Braeden and join with him to uncover the man taking children of the estate. Soon, Serafina finds herself looking into the forest for answers, a place she has been forbidden to go to but is inexplicably drawn to. Will Serafina find the mysterious man without exposing herself to the the people of the estate and ruin her entire world?
This was definitely an interesting read. Serafina has been living hidden in the basement where her father works and she is able to creep and crawl her way throughout the estate without being seen. I loved how Serafina was able to watch so much going on and be such an integral part of the estate without it even being known that she was living there. Serafina knows that she's not an ordinary girl, so I really liked it when we got to know where she really came from and have even more questions about her past. Who really was Serafina? Or, better yet, WHAT was she?
There was also a big mystery that this story revolved around, and that was who this mysterious man in the black cloak was who was either stealing or killing children from the estate. I think that Serafina uncovered who it was a bit too quickly, but it was fun seeing her gather all of the pieces together and see everything make sense. When she decided to trust Braeden, I loved how Serafina was the only person who Braeden was even interested in spending time with. I did think that Braeden was portrayed as quite a bit older than he really was (he's 12), but Serafina felt comfortable around him and was able to be just a normal girl with him. I liked how Serafina came out of her shell more and more and became someone other than the girl hiding in the basement.
Overall, I thought this one was an intriguing middle grade read with a unique character, an intriguing mystery, and a sweet relationship. If you're a fan of middle grade novels, I would definitely recommend Serafina and the Black Cloak.