The Sun is Also a Star
By Nicola Yoon
Release Date: November 1, 2016
Source: Publisher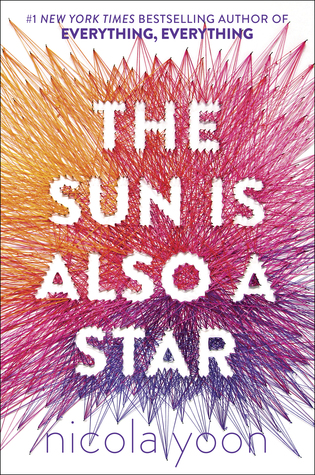 Natasha: I'm a girl who believes in science and facts. Not fate. Not destiny. Or dreams that will never come true. I'm definitely not the kind of girl who meets a cute boy on a crowded New York City street and falls in love with him. Not when my family is twelve hours away from being deported to Jamaica. Falling in love with him won't be my story.
Daniel: I've always been the good son, the good student, living up to my parents' high expectations. Never the poet. Or the dreamer. But when I see her, I forget about all that. Something about Natasha makes me think that fate has something much more extraordinary in store—for both of us.
The Universe: Every moment in our lives has brought us to this single moment. A million futures lie before us. Which one will come true?
Oh my, this book. I knew that I was going to enjoy it because I LOVED Everything Everything. This one sounded like it was going to be a cute YA romance and I couldn't have been more right!
Natasha is someone who believe in facts and science- forget romance and fate. When her father runs into trouble and the government discovers that they aren't actual legal citizens, Natasha and her family are being deported to Jamaica. Tonight. Natasha knows she has to find a way to save her family and herself from leaving the only life she's known. Daniel, on the other hand, is Korean American with high exceptions from his parents to be the perfect son. Daniels doesn't want to go to an ivy league school and be a doctor, but his parents don't understand. When Daniel sees Natasha on the street, he believes fate brought them together and that he met her for a reason. But Natasha is harder to convince and she knows nothing could ever happen between them if she isn't even in the same country the next day…
I am still shocked that this whole book only took place in a day. There is so much growth and exploration in not only Natasha and Daniel's relationship, but also in the relationship between each of them and their parents. When Natasha and Daniel meet, Daniel is swept off his feet and knows that he could seriously fall for Natasha. That doesn't mean he was instantly in love with her, though, so the whole horrifying intsa-love trope is thankfully avoided. Instead, you get to watch them start to fall for each other as they challenge each other's views of the world, of love, and of themselves. I loved how different Natasha and Daniel were, but also how much they grew to love each other as they spent more time together.
While Natasha and Daniel were the main characters of this book, the lives of all characters were explored. There were little snippets of people from their families and even from people they had little encounters with. Nicola Yoon explores the complexity of human lives and how interconnected we all are. She shows how one action of one person affects another person and how we all have reasons for the way we act. These moments were each only two or three pages of the entire book, but they added so much depth and complexity to the story and the world that Natasha and Daniel were living in.
I am still so in love with this book and it's been over a week since I've read it. Daniel and Natasha's love story was unconventional, but it was so believable and had so much depth to it. And BOTH characters are diverse characters, which I loved. And that ending! I loved how unique and unexpected it was. I want more! I need more! Every YA contemporary fan, especially those who already love Nicola Yoon, has to pick up this book!