The Lovely Reckless
By Kami Garcia
Release Date: October 4, 2016
Source: ALA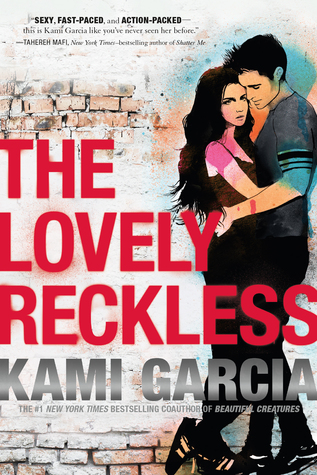 I
've become an expert at avoiding things that could hurt me—which means I will figure out how to stay away from Marco Leone.


Seventeen-year-old Frankie Devereux would do anything to forget the past. Haunted by the memory of her boyfriend's death, she lives her life by one dangerous rule: Nothing matters. At least, that's what Frankie tells herself after a reckless mistake forces her to leave her privileged life in the Heights to move in with her dad—an undercover cop. She transfers to a public high school in the Downs, where fistfights don't faze anyone and illegal street racing is more popular than football.

Marco Leone is the fastest street racer in the Downs. Tough, sexy, and hypnotic, he makes it impossible for Frankie to ignore him—and how he makes her feel. But the risks Marco takes for his family could have devastating consequences for them both. When Frankie discovers his secret, she has to make a choice. Will she let the pain of the past determine her future? Or will she risk what little she has left to follow her heart?
I am such a sucker for street racing. The Fast and Furious movies are some of my favorites and there's just something about a guy who drives a fast car…so to say I was excited for The Lovely Reckless was an understatement. And the fact that our main character's father was an undercover cop that could threaten her relationship with the racer...I had to get my hands on this story ASAP!
After losing her boyfriend to a horrible crime that she witnessed but just can't remember, Frankie makes a mistake and is sent off to live with her dad, an undercover cop. Far from her preppy high school, Frankie is thrown into a public high school where illegal street racing is the sport of choice. Marco Leone is as tough as they come and Frankie should want nothing to do with him, but the moment they literally bump into each other, their attraction is undeniable. Frankie learns to live a little with Marco, but when she learns what exactly he sacrifices to protect his family, Frankie has to decide where her loyalties lie and how she can help the ones she loves the most.
Oh gosh, this book started out SO GOOOOOOOD. The attraction between Frankie and Marco was undeniable and I loved how much Marco teased Frankie. There was so much emotion surrounding Frankie not being able to remember the face of the man who murdered her boyfriend and how she was still reliving the event through her flashbacks. Marco was the complete opposite of her boyfriend, but I think that's why Frankie was so intrigued by him. I was obsessed with their relationship and was dying for them to finally give in!
The thing that knocked my rating down a star, though, was the instalove. Frankie was trying to resist her attraction one minute and the next they were confessing their undying love for one another. I get that they were lusting after each other, but the love jump was a little too quick. I did, though, love the whole aspect that Frankie's dad was an undercover cop and Marco was an illegal street racer. There was a lot of drama and sticky situations that Frankie had to find a way out of. There definitely wasn't a dull moment in this book!
Fans of Katie McGarry and Simone Elkeles are going to absolutely LOVE Kami Garcia's newest release. With hot street racers, a mystery that is locked inside the head of our main character, and chemistry that is hot hot hot, you can't go wrong with The Lovely Reckless!