A Place in the Sun
By RS Grey
Release Date: October 24, 2016
Source: Author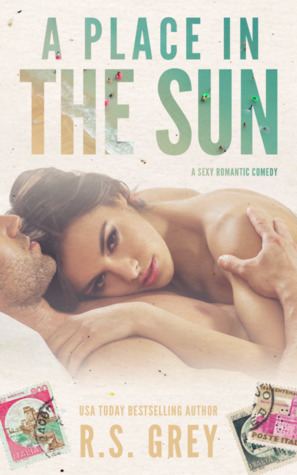 When her mother's incessant matchmaking hits an all-time high, Georgie Archibald does what any sensible woman would do: she flees the country.
Seeking refuge in the picturesque seaside village of Vernazza, Italy, Georgie's only plan is to lie low, gorge herself on gelato, and let the wine and waves wash her troubles away... that is until she wakes up in a bed that belongs to the most romantic-looking man she's ever seen.
Gianluca.
After going out of his way to rescue her, the former London financier turned mysterious recluse makes it clear that despite acting as her white knight, he has no plans to co-star in her fairytale.
But Georgie isn't asking for his heart—she's merely
intrigued
.
After all, Gianluca isn't just gorgeous—tall and tan from days spent in the sun—his touch sets her world on
fire
. With him, Georgie experiences the most intoxicating passion she's ever known, and it only takes a few steamy nights for her to realize that sometimes running away from trouble is the best way to find it.
I fell in love with RS Grey's writing when I read Scoring Wilder, but unfortunately haven't loved anything by her as much as that book since then. RS Grey has released some pretty great books, but I think that Liam Wilder has ruined me for all other men. That doesn't mean, though, that I haven't enjoyed all of her other books and the romances she's created. When I got this book, I couldn't wait to read Georgie's story and watch her fall in love in Italy.
Georgie is tired of her mother constantly setting her up with men who just don't live up to her standards of the man she can see herself falling head over heels in love with. Her solution? Drop everything and fly to Italy to find a real man to fall for. Georgie finds herself in the quaint town of Vernazza where she is rescued from exhaustion by two good looking Italian men. Georgie is immediately taken with Gianluca, but she couldn't have chosen a more broken man to fall for. While their chemistry is intense and Georgie believes Gianluca could be the key to her happily ever after, there is something bigger than the both of them standing in their way that Gianluca is nowhere near letting go of.
This book definitely started off adorable, fun, and lovable. I loved Georgie's character in Settling the Score and she was definitely as entertaining then as she was in the beginning of this book. All of the people Georgie meets are so wonderful and I loved how they were trying to help her find the perfect Italian man to fall for. I was bothered, though, by the fact that Georgie is British and this book read very un-British like except for the occasional "mum" or "bloody." I didn't buy Georgie's background, which bothered me, and I wish that it was more authentic or Georgie just wasn't made to be a British character. Another aspect about Georgie's character that bothered me was how she just up and went to Italy and stayed for months with no obligations whatsoever. I get that her family was super rich, but she literally had no one telling her she needed to be back (except her family once or twice) and she was a 26-year-old woman with no obligations or expectations back home. I get that that was to make the story able to happen with her staying on in Italy for as long as she wanted to, but as a twenty-something myself, I found it a bit annoying and unbelievable.
Going on to Gianluca, I really liked how he was this brooding man who really had no interest in Georgie, or any woman for that matter, when he first met her. I was a little annoyed with how infatuated Georgie was with Gianluca and how she would do anything to get him to like her. That seemed a bit cliche on her part. There were more cliche moments throughout the story (that I can't mention because I don't want to spoil the story) that were added for drama and I really hated what the focus was on in the epilogue of this story. That one aspect of Gianluca's life kind of took over the story halfway through this book and I didn't want it to be about that. Georgie really lost her spark and spunky attitude halfway through the story and I wanted her back. While I didn't cry in this book, it was definitely emotional and I get why Georgie changed the way she did. There was a lot of emotion in this book and you got a close look at how much people really give of themselves in a relationship.
Overall, this was not my favorite from RS Grey, but it definitely made me want to hop on a plane and visit Italy ASAP. The setting was gorgeous and I loved what Georgie ended up doing when she was in Vernazza. I wasn't as into the romance as I wanted to be, but it was still a very emotional story with absolutely lovable characters. If you want a book that will give you the travel bug and a roller coaster romance, you should pick up A Place in the Sun.