Rusty Nailed (Cocktail #2)
By Alice Clayton
Release Date: June 24, 2014
Source: Publisher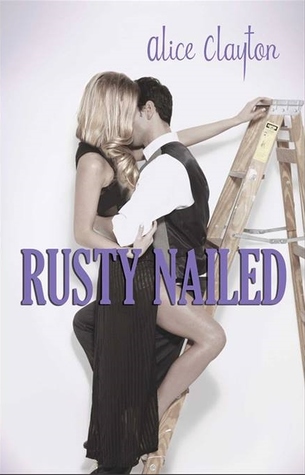 Summary:
In this sequel to
Wallbanger
, the second book in the Cocktail series, fan favorites Caroline and Simon negotiate the rollercoaster of their new relationship while house-sitting in San Francisco.
Playing house was never so much fun—or so confusing. With her boss on her honeymoon, Caroline's working crazy long hours to keep the interior design company running—especially since she's also the lead designer for the renovation of a gorgeous old hotel on Sausalito. So with her hotshot photographer boyfriend gallivanting all over the world for his job, she and Simon are heavy-duty into "absence makes the heart grow fonder" mode. Neither has any complaints about the great reunion sex, though! Then Simon decides he's tired of so much travelling, and he's suddenly home more. A lot more. And wanting Caroline home more, too. Though their friends' romantic lives provide plenty of welcome distraction, eventually Caroline and Simon have to sort their relationship out. Neither wants "out of sight, out of mind," but can they create their own happy mid-ground cliché?
USA TODAY
bestselling author Alice Clayton delivers another delicious, frothy cocktail of a book, shaking up her characters, stirring in laugh-out-loud humor, and serving sizzling romance straight up!
Review:
Last summer, my sister stumbled across Wallbanger and decided to read it on the beach during our vacation. She loved it so much that she told me I just had to read it, so I pushed aside my huge TBR pile and devoured Wallbanger in one day. I absolutely loved Caroline and Simon's story and couldn't wait for even more!
Caroline is more than enjoying her relationship with Simon. While he's constantly away for work, photographing breathtaking locations all around the world, they're absolutely crazy about each other when they're together. But when Caroline's boss gets married and leaves Caroline with full control of the design business for an unspecified amount of time, Caroline's life becomes work, work, work. While she's drowning in designs, though, Simon starts canceling his business trips and spending more and more time just…around. What started out as an unconventional, passionate relationship is turning into something that freaks Caroline out and appears to be going towards a future she hadn't thought she'd ever want.
Like I said, I loved Caroline and Simon's fiery and flirty relationship in Wallbanger. But in Rusty Nailed, we get to see how Caroline and Simon deal with real relationship problems. No longer is it a question of "are we together," but instead it's "what do we do now that we're together." Things seem fine and dandy in the moment, but what happens when real life, like jobs, friends, and the future, comes into the picture? Simon and Caroline still have their lovable personality with their equally stubborn attitudes and complete and utter attraction towards one another. While life throws them obstacles, their raw passion for one another is never going to go away, which is completely fine with me! And Caroline is even more in love with her Kitchenaid mixer, which I can totally relate to. Any heroine who loves baking is okay in my book.
Along with Caroline and Simon, we also get more of Mimi and Ryan, as well as Sophia and Neil (definitely some drama there!). Oh, and Jillian and Benjamin! I love how Caroline and Simon's friends are still a big part of their lives and their friends' relationship dramas will always affect them too because that's just how best friends are. Oh, and let's not forget Clive! He's just as mischievous and lovable as ever. With a strong cast to back up the lovable main couple, it's impossible not to love this novel.
In the newest release in the Cocktail series, Caroline attempts to grow up and realizes the fears every 20-something has of growing up and actually being an adult. We still get the immensely adorable and smoking hot Simon, but we also get to see the more serious side to their relationship. With witty dialogue, a quirky and lovable cast, and a whirlwind of a romance, you can't go wrong with Alice Clayton's latest release!