By Roxanne St. Claire
Release Date: October 14, 2014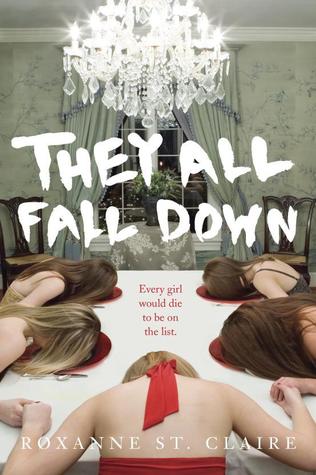 Summary:
Pretty Little Liars meets Final Destination in this YA psychological thriller that will have readers' hearts racing right till the very end!
Every year, the lives of ten girls at Vienna High are transformed.
All because of the list.
Kenzie Summerall can't imagine how she's been voted onto a list of the hottest girls in school, but when she lands at number five, her average life becomes dazzling. Doors open to the best parties, new friends surround her, the cutest jock in school is after her.
This is the power of the list. If you're on it, your life changes.
If you're on it this year? Your life ends.
The girls on the list have started to die, one by one. Is it a coincidence? A curse? Or is the list in the hands of a killer?
Time is running out for Kenzie, but she's determined to uncover the deadly secret of the list...before her number's up.
Review:
As far as scary books or movies go, I am such a wimp. I hate being scared and can't get through anything that's truly terrifying (I saw The Ring in high school and am still terrified just thinking of it). I can, though, handle a little bit of scary plot for a story that is more mystery than horror and has puzzling murders to solve.
Every year, the students of Vienna High vote on the super secret Hottie List, a list that changes the lives of ten girls at the school. As a Latin nerd who's best friends with a band geek, Kenzie Summerall has no idea how she made the list. When she lands the position as number five, everyone suddenly wants to be her friend and she's invited to all of the cool parties. But when the girls on the list start to die one by one, Kenzie knows something bad is happening in their town and starts to question everything she's ever known. Theories about a curse are thrown around, but can a curse really be causing these girls to die? As the list of girls alive grows shorter and shorter, Kenzie is determined to find out who's behind the "accidental" deaths before her number is up.
As soon as I saw that this book was compared to Pretty Little Liars, I was definitely excited to pick it up. There's more of a mystery behind who is terrorizing innocent high school girls and why anyone would want them dead. Is someone really trying to kill them, or are they just that unlucky that seriously freaky accidents keep on happening to them? Kenzie keeps on noticing strange things happening to her, but is she just being paranoid? I love the mind games that were played in this novel and how so many people were involved. There are ten girls whose lives are on the line and even more people involved in Kenzie's life, so there are definitely more than one conflicting opinion on what they all are to do next and if there really is a crazy killer on the loose. Not to mention that all of the characters have secrets of their own that may or may not affect the fate of the rest of the girls on the list.
From the beginning, I really enjoyed Kenzie's character. She's always been on the outside looking in and when she's finally popular, it's definitely not as glamorous and perfect as it seemed, especially when it comes to her longtime crush Jared. Maybe the person you're really meant to be with isn't the picture perfect jock, but rather the dark and mysterious guy who has a rocky past of his own. Oh, yeah, I definitely go with option number two, especially after meeting said mysterious guy. I love how straight forward and honest Levi is with Kenzie and how we get to see a different side of him than everyone else does. No one knows Levi's true past and they all see him as the bad boy persona he puts on. Kenzie is able to see that he's so much more than that, but can she trust him when all of this crazy stuff is happening to her? I loved Levi, but I wish that we got more from the romance between Kenzie and Levi than we did. Yeah, we get some, but not as much as Kenzie shared she wish she had at the beginning of the novel. The romance was more of a subplot compared to the overall murder mystery, so I was okay with the downplayed emotional/physical relationship details of the story.
They All Fall Down is definitely a fun read that is perfect for this Halloween season. While I wasn't as satisfied with the ending as I wanted to be, I really enjoyed the mystery behind the murders going on at Vienna High and how many secrets became uncovered throughout the novel. Any fan of Pretty Little Liars has to pick up this novel full of murder, mystery, and very deadly secrets.