By Sharon Page
Release Date: September 30, 2014
Source: Book Tour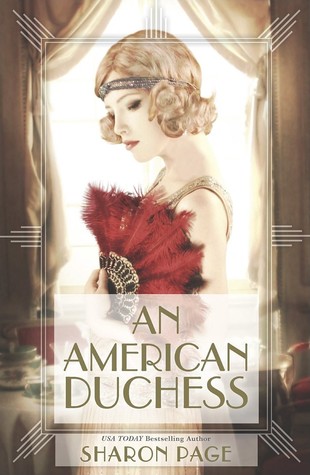 Summary:
Set on a crumbling English manor estate during the height of the Roaring Twenties, an American duchess must decide how much she's willing to risk for the life she truly desires…
It's 1922, and New York heiress Zoe Gifford longs for the freedoms promised by the Jazz Age. Headstrong and brazen, but bound by her father's will to marry before she can access his fortune, Zoe arranges for a brief marriage to Sebastian Hazelton, whose aristocratic British family sorely needs a benefactor.
Once in England, her foolproof plan to wed, inherit and divorce proves more complicated than Zoe had anticipated. Nigel Hazelton, Duke of Langford and Sebastian's older brother, is as austere and imposing as the family's ancestral estate. Still reeling from the Great War, Nigel is now staging a one-man battle against a rapidly changing world—and the outspoken Zoe represents everything he's fighting against.
When circumstances compel Zoe to marry Nigel rather than Sebastian, their heated quarrelling begets passion of another sort. But with Nigel unwilling to change with the times, will Zoe be forced to choose between her husband and her dreams?
Review:
I love everything about the twenties- the fashion, the lifestyle, the bootlegging and speakeasies…life seemed so cool back then and I love reading books set in that era. One look at An American Duchess and I thought I would absolutely love it. Unfortunately, I just couldn't connect with the characters and the whole theme of the modernization of the world was a bit heavy handed to me.
In 1922 New York, Zoe Gifford embodies all things up and coming in the Jazz Age. She longs for freedom to be who she wants and to indulge in all of life's pleasures. But Zoe must marry in order to access a fortune her mother desperately needs, so she arranges a marriage with Sebastian Hazelton, an English aristocrat who's family is also finding itself in the midst of money troubles. When Zoe and her mother go to England to carry out the engagement, the last thing Zoe expects to find Nigel Hazelton, the irritable yet intriguing brother of Sebastian, who also happens to be the Duke of Langford. Still affected by the shocks of the war, Nigel is content keeping Langford just the way it is and resists anything that has to do with the emerging modern world. While Zoe and Nigel couldn't be more opposite, the more time they spend together, the harder it is to deny the passion brewing between them.
Like I said, I was very excited to read this book. I watch Downton Abbey and their flapper cousin Rose is one of my favorite characters. I expected Zoe to be somewhat like her, but instead Zoe was a very exaggerated flapper you might find in the 20s. Zoe is very hardheaded and strongly believes in feminism and loose morals. I wish her character wasn't so overdone or stubborn because at times it seems like she just enjoyed picking fights and arguments and it just got old. With Nigel being the exact opposite, I felt like his character was also a bit too much in that old-fashioned regard. He wanted nothing to change and was just as hardheaded. While I like it when the romantic interests bicker and flirt, their fighting happened again and again over the same issues to the point where it was just boring and not interesting anymore.
I was intrigued that Zoe's character was able to fly airplanes, but I was disappointed with the scenes we got where she actually flew a plane. There was no detail about the event at all, just that she got in, flew, and landed. I wanted her flying to come alive, but I didn't get a sense at all of why she loved flying so much. Also, with the story, I feel like I was over the story about 150 pages in and that everything else just seemed redundant and tiring for the next 200 pages. Things started going by too fast and I didn't have enough time to become really invested in the characters before huge decisions were being made and time was moving forward. I ended up skimming through the last half of the book because I wasn't interested in their story anymore and just wanted to be done with it.
While the premise was promising, the end result was too heavy handed in the themes that made up the Roaring 20s. The pacing felt off and I didn't find myself caring for the characters as much as I wanted to. While I appreciated how the story emphasized how both America and England changed after the war in the 20s, the story just couldn't hold up for me.