Chained by Night (MoondBound Clan Vampires #2)
By Larissa Ione
Release Date: September 30, 2014
Source: Publisher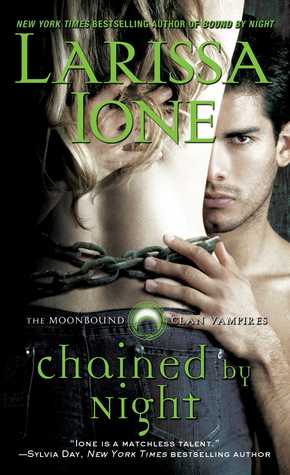 Summary:
THE FUTURE OF HIS TRIBE
Leader of the vampire clan MoonBound, Hunter will do what he must to save his people from extinction - or worse, a torturous eternity as vampire slaves and subjects of human experimentation. To keep his enemies at bay, he has agreed to mate a rival clan leader's daughter in return for peace between the clans and an ally in the looming war with the humans.
THE LOVER OF HIS SOUL
But survival comes at a price. First, Hunter must break an ancient curse by successfully negotiating three deadly tests. Then he must resist the searing passions of the gorgeous vampire warrior he despises but is bound to mate. Will Hunter stay true to his word? Or will he risk everything for the woman he really loves: the vampire seductress's identical twin sister?
Review:
Oh my vampires, this book was SO GOOD. Seeing as I loved Bound By Night, the first book in the Moonbound Clan Vampire series, I knew that I was going to love Hunter's story in Chained by Night. I didn't expect, though, to have such a bond with Aylin and her fight to prove her strength not only to those around, but to herself as well.
In order to protect his clan and pacify his vampire enemies, Hunter has agreed to mate with Rasha, daughter of his rival clan's leader. When Rasha arrives with her twin sister Aylin, though, Hunter couldn't be more disgusted by Rasha and more drawn to her crippled twin sister. As a born vampire, Hunter must pass three deadly tests with his mate in order to save his future firstborn child, but Rasha refuses to aid him and risk her own life, sending Aylin in her place. Hunter finds attempting to resist his attraction to Aylin the hardest test of all, knowing that if he gives in to his intended mate's twin sister, he could lose everything.
Oh, this book was so good! I knew that I would love it because the entire story revolved around a forbidden love between Hunter and Aylin. Hunter is such a good guy and really cares about the well-being of his clan members, unlike Aylin and Rasha's father who is a savage ruler and made Aylin feel like a worthless being because of her crippled leg. Hunter shows Aylin that she's not worthless and is equal to everyone in his clan, which makes her have much more confidence in herself and her ability to protect herself and others. Since she's been shunned all her life, she's never been with a man, let alone a man who makes her feel the way Hunter does. But how can she be with Hunter when he's intended for her twin sister in a deal that is supposed to save the entire vampire species?
While the romance was sweet, hot, and beautiful, I found myself loving the action side of the plot just as much. The vampire clans are literally on the brink of war not just with the humans, but between the various vampire clans themselves. There are battles, blood, and guts in this story and I was on the edge of my seat, hoping that Hunter and Aylin could save the MoonBound clan from the evil, savage clans of the men trying to take Aylin away. Oooh, the suspense! How are Aylin and Hunter going to get out of that mess, especially when all they really want to do is be with each other and no one else?
If you can't tell, Larissa Ione knows how to write a killer paranormal romance and I am a huge fan. I really really really hope there's a third book because she's made me fall in love with vampire romances all over again. With her own stake in the vampire world, Larissa Ione has created an insanely irresistible story with even more irresistible vampires that any paranormal fan will surely fall in love with.