Keep Me Safe (Slow Burn #1)
By Maya Banks
Release Date: October 7, 2014
Source: Publisher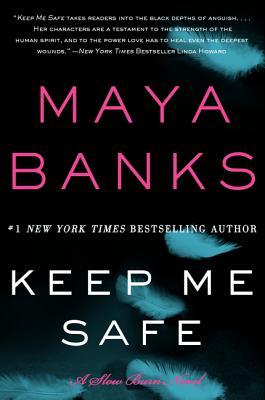 Summary:
When Caleb Devereaux's younger sister is kidnapped, this scion of a powerful and wealthy family turns to an unlikely source for help: a beautiful and sensitive woman with a gift for finding answers others cannot.
While Ramie can connect to victims and locate them by feeling their pain, her ability comes with a price. Every time she uses it, it costs her a piece of herself. Helping the infuriatingly attractive and impatient Caleb successfully find his sister nearly destroys her. Even though his sexual intensity draws her like a magnet, she needs to get as far away from him as she can.
Deeply remorseful for the pain he's caused, Caleb is determined to make things right. But just when he thinks Ramie's vanished forever, she reappears. She's in trouble and she needs his help. Now, Caleb will risk everything to protect her—including his heart. . . .
Review:
Words can't even begin to describe how much I love Maya Banks. I have read so many of her books and fall in love with her writing every single time. While the romance wasn't as swoon-worthy as it was in her other books, the suspense in Keep Me Safe made it impossible to put down.
When Caleb Devereaux's sister goes missing, he will do everything in his power to find her, which means tracking down a woman with psychic abilities that can find missing people. Ramie St. Claire can connect with people by simply touching an object they own, but every time she uses her ability, it chips away at her piece by piece. When she unwillingly helps Caleb find his sister, it almost destroys her and creates a link between her and Caleb's sister's obsessive killer. Now on the run from a man that knows her every thought and move, Ramie's only hope at protection and safety is through Caleb. Caleb feels guilty over what he put Ramie through, so he doesn't hesitate to offer her protection, especially once he starts developing feelings for the scared and helpless woman. Caleb is determined to protect those he loves the most, including Ramie, but how does he stop a killer who has eyes and ears everywhere, especially in their minds?
Wow, this book seriously plays with your mind. I love how Maya Banks adds a little paranormal to this novel with the whole psychic aspect of Ramie's character. It's hard enough trying to catch a normal serial killer, but try stopping a serial killer who is stalking your mind. Oh my gosh, Ramie is scared for her life and there's no reprieve, even in her own mind, because the killer is always there, taunting her that he will always find her. The story is psychologically scary and I was terrified for Ramie because this man was so freaking crazy! Some reviews complained with how weak Ramie's character seemed, but she had gone through so much trauma that it's a wonder she can trust anyone. Caleb, though, makes it clear that he has her best interest at heart to the point where he finds himself falling for her. While the romance wasn't as developed as I would have liked it to be, I still enjoyed Caleb's fierce protective nature over Ramie.
The romance is almost always the central component of Maya's novels, but I felt myself not really caring for Ramie and Caleb's relationship in this one. It seemed to come out of nowhere on Caleb's end and I wish there was more development of their feelings before he was so adamant that he loved her. I understood that he felt guilty over what he had put her through to find his sister and felt fiercely protective of her, but there should have been more build up to him falling for her instead of being instantly in love. Good thing the whole serial-killer-on-the-loose plot line was so intense and thrilling because I did not want to put this book down until they caught the maniac. And what he does to Caleb near the end? So twisted! I was so freaked out and literally could not stop reading.
Overall, Keep Me Safe was an enthralling ride that lacked in the romance department but very much made up for it with its paranormal elements and psychological thrill. While it's not my favorite of Maya's, it was definitely an entertaining read that captured my attention until the very last page.
I have one copy of Keep Me Safe by Maya Banks to giveaway to one lucky reader! Just fill out the rafflecopter below! Ends 10/18 ***US Only