Moonlight on Nightingale Way (On Dublin Street #6)
By Samantha Young
Release Date: June 2, 2015
Source: Publisher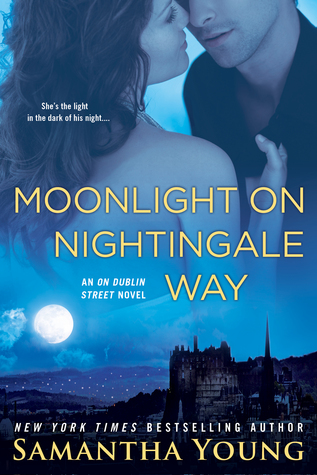 Summary:
Logan from Echoes of Scotland Street is back with his own smoldering story, as the New York Times bestselling On Dublin Street series returns…
Logan spent two years paying for the mistakes he made. Now, he's ready to start over. He has a great apartment, a good job, and plenty of women to distract him from his past. And one woman who is driving him to distraction…
Grace escaped her manipulative family by moving to a new city. Her new life, made to suit her own needs, is almost perfect. All she needs to do is find her Mr. Right—or at least figure out a way to ignore her irresistible yet annoying womanizer of a neighbor.
Grace is determined to have nothing to do with Logan until a life-changing surprise slowly begins turning the wild heartbreaker into exactly the kind of strong, stable man she's been searching for. Only just when she begins to give into his charms, her own messy past threatens to derail everything they've worked to build…
Review:
HOW IS THIS THE LAST BOOK?!? I didn't even realize that this was the last of the series until I got to the epilogue. I wasn't sure why all of the women from the series had short snippets in the epilogue until I read the author's note. All I can say is, what a way to end the series!
After spending the past two years in prison for protecting his sister, Logan is a different man. With a string of women in and out of his life, he isn't looking for anything serious. Needless to say, his neighbor Grace does not appreciate the loud noises from his extra curricular activities at night when she's trying to edit books for her job as a freelance editor. Grace does her best to avoid her delicious, yet annoying new neighbor, but when his life is turned upside down, Grace is there to lend a helping hand. The more time they spend together and learn more about each other, they realize they actually have a lot in common and aren't as annoying to each other as they had thought…
From the moment Logan was mentioned in Echoes of Scotland Street, I knew that he would be a fantastic love interest for this last book. He gave up two years of his life to get back at a man who abused his sister, which shows that he will do anything for those he loves. Of course, when he got out of jail, he tries to make a new life but can't be as carefree and loving as he used to be. Instead, he has to deal with people judging him and can't see himself settling down anytime soon. I loved how much Logan and Grace bickered in the beginning, especially when Grace found some unmentionables from one of Logan's late night visitors. It was definitely a light-hearted start to an emotional read. Their relationship reminded me a lot of the one in Wallbanger at the beginning of the novel because the guy is a womanizer and the girl is there to be attracted to the guy but is also seriously annoyed by his promiscuous ways.
I'm always a little nervous when it comes to introducing new characters into this series, but Grace flawlessly inserted herself into the On Dublin Street world. She had a really rough upbringing because her parents were so critical and not loving at all. Grace is relatable because she's pretty insecure about herself and constantly doubts she could ever be good enough for a guy like Logan. But I loved how much Logan's family and the On Dublin Street family were involved in making the relationship between Logan and Grace happen. There were a lot of family moments and, as always, I loved seeing all of the old couples married and still happy. They are such a welcoming family and only want the best for those they love, which means they'll do anything to get Logan and Grace to let go of their insecurities and just be together.
I could go on and on and on about this book and how amazing Samantha Young is. I think this was a phenomenal, emotional, and adorable ending to the On Dublin Street series. I'm going to miss the couples and family that I've grown so close to over the years and the yummy men I've fallen in love with. Anyone who hasn't started this series, you must! As for the rest of us, I can't wait to see what Samantha has in store for us next.