Falling Away (Fall Away #3)
By Penelope Douglas
Release Date: January 6, 2015
Source: Publisher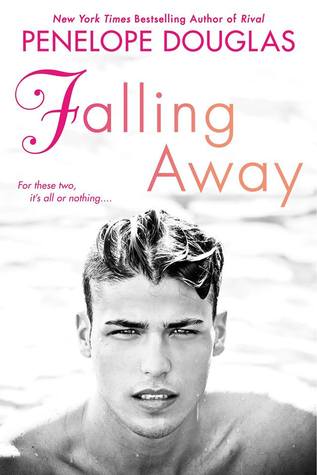 Summary:
Jaxon is the guy she's supposed to avoid.

K.C. is the girl he won't let get away....

K. C. Carter has always followed the rules—until this year, when a mistake leaves her the talk of her college campus and her carefully arranged life comes crashing to a halt. Now she's stuck in her small hometown for the summer to complete her court-ordered community service, and to make matters worse, trouble is living right next door.

Jaxon Trent is the worst kind of temptation and exactly what K.C. was supposed to stay away from in high school. But he never forgot her. She was the one girl who wouldn't give him the time of day and the only one to ever say no. Fate has brought K.C. back into his life—except what he thought was a great twist of luck turns out to be too close for comfort. As the bond between them grows, he discovers that convincing K.C. to get out from her mother's shadow is hard, but revealing the darkest parts of his soul is nearly impossible.…
Review:
Holy moly, talk about some serious sexual tension. Now that I've read two books by Penelope Douglas, it's clear that she knows how to create some insane heat between her characters and develop a relationship that is absolutely impossible to resist.
When KC Carter makes a mistake that lands her back home with community service, her life is definitely not the picture perfect image her mom has worked so hard for. Not welcome at home, KC stays at her best friend Tate's house, which just so happens to be next door to Jaxon Trent, the guy who tempted her two years ago and hasn't left her head since. Jax has wanted KC the moment he laid eyes on her, but he knows he's no good for her. Now that she's back in his life, though, he's not so sure he can stay away any longer…
You guys, this book. I devoured the 408 pages in one day and did not tire of Jax and KC for a single second. Not only are they inanely attracted to each other, but they both have some serious emotional scarring from their pasts that has made it hard for either of them to let others in. Their relationship is the wildest roller coaster I've ever been on, but their ups and downs were never forced. Instead, it was natural when they would fight and I was begging for them to FINALLY kiss and make up so that they could release some of that insane sexual tension brewing between them. The highs were way high and the lows were pretty low, but every moment was worth watching those two fall for each other.
I fell for Jax at the end of Bully, but that was NOTHING compared to how hard I fell for him in this book. He puts on the act of how he has everything he could ever want at his fingertips, but he's such a softy on the inside. The way he treats KC (well, most of the time) is so perfect and shows how much he's really trying to let her in. Throughout the book, both KC and Jax's pasts are slowly revealed and it definitely kept me hooked. I had to keep reading to figure out exactly what had happened to each of them as kids and if they could allow each other to heal their past scars.
In the end, Falling Away was a roller coaster of intense emotion, insane chemistry, and an irresistible main man. Anyone who picks this book up better be prepared for some serious heat and to fall head over heels for the heart wrenchingly beautiful bad boy Jaxon Trent.