By Jennifer Niven
Release Date: January 6, 2014
Source: Publisher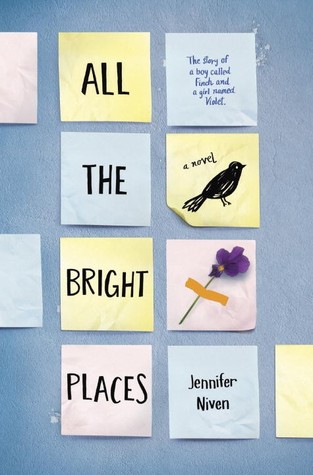 Summary:
The Fault in Our Stars meets Eleanor and Park in this exhilarating and heart-wrenching love story about a girl who learns to live from a boy who intends to die.
Soon to be a major motion picture starring Elle Fanning!
Theodore Finch
is fascinated by death, and he constantly thinks of ways he might kill himself. But each time, something good, no matter how small, stops him.
Violet Markey
lives for the future, counting the days until graduation, when she can escape her Indiana town and her aching grief in the wake of her sister's recent death.
When Finch and Violet meet on the ledge of the bell tower at school, it's unclear who saves whom. And when they pair up on a project to discover the "natural wonders" of their state, both Finch and Violet make more important discoveries: It's only with Violet that Finch can be himself—a weird, funny, live-out-loud guy who's not such a freak after all. And it's only with Finch that Violet can forget to count away the days and start living them. But as Violet's world grows, Finch's begins to shrink.
This is an intense, gripping novel perfect for fans of Jay Asher, Rainbow Rowell, John Green, Gayle Forman, and Jenny Downham from a talented new voice in YA, Jennifer Niven.
Review:
Ever since I saw the synopsis for this book, I was intrigued. First, it was compared to The Fault In Our Stars and Eleanor and Park. Love both of those books. Then, it was described as a heart-wrenching love story. THEN, I saw that it's going to be a movie with Elle Fanning. How could I not pick this book up?
Theodore Finch constantly thinks about death. What would it be like to die certain ways? Each time he goes to find out, though, something always stops him. When he decides to go up on the ledge of the bell tower at school, the last thing he expects to find there is Violet Markey, a girl counting down the days until graduation and who is still aching over the loss of her sister who died the year before. Both Violet and Finch end up coming down from the ledge of the tower, but that moment has branded them together to the point where they can't stop thinking about one another. Finch decides that he and Violet have to be partners for their school project to explore the wonders of their state. As they travel from place to place, Violet and Finch discover more and more about each other, but also themselves.
You know how I said in the beginning of my review that this book was described as "heart-wrenching" so I knew that I had to read it? Well, this was heart-wrenching. And my heart isn't so happy with myself right now because it was definitely torn apart while I was reading this book. Finch and Violet are unlike any two characters I've ever read, especially because they are both dealing with grief and dark places that I could never imagine facing myself. I've never had to deal with suicide or mental illness that closely before, so I never really knew how to understand it. Being inside of Violet and Finch's minds, things are definitely intense and very hard to deal with alone. I love how Violet and Finch found each other, but sometimes becoming close to someone else only makes it that much harder.
I honestly don't know what else to say about this book except that it was so beautifully written and impossible to put down. Finch's character is so bright no matter how dark he feels inside and I love how he does his own thing instead of listening to what everyone else says about him. Seeing him from inside of his own mind and then from Violet's point of view was fascinating and there was just something about him that I couldn't not love. While Violet was hesitant around him at first, I can see how Violet just couldn't resist him anymore. Both characters definitely had emotional stories and I was completely wrapped up in them and didn't want to let go when the story ended.
If you haven't yet, you must find yourself a copy of All the Bright Places. This story is a serious and heart-wrenching read that explores mental illness and suicide in a very raw and realistic way. From the moment you meet Finch and violet, you won't ever want to say goodbye.