Ruthless (Lawless #1)
By Lexi Blake
Release Date: August 9, 2016
Source: Publisher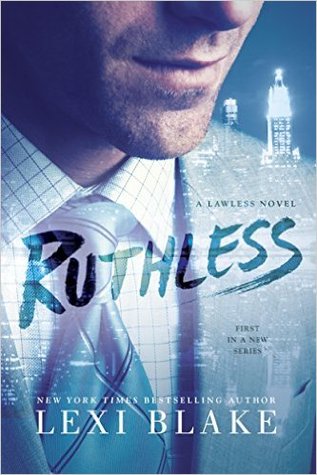 The Lawless siblings are bound by vengeance. Riley, Drew, Brandon, and Mia believe the CEO of StratCast orchestrated their parents' murder twenty years ago to steal their father's software program. And there's only one way Riley can find some solid evidence...

Heir to the StratCast legacy, Ellie Stratton hires a new attorney to handle a delicate business matter—and she's shocked by her attraction to him. Over the course of a few weeks, Riley becomes her lover, her friend, her everything. But when her life is threatened, Ellie discovers that Riley is more obsessed with settling an old score than in the love she thought they were building. And Riley must choose between a revenge he's prepared for all his life and the woman he's sure he can't live without
…
I don't know why, but I am just so in love with this cover. It might be because of the font or the pretty blue color, but I knew that I had to read it. Not to mention this was a romance. How could I resist?
The Lawless siblings have been raised on pain and vengeance. Growing up in group homes and foster care, the siblings have waited for the chance to reunite and find the people responsible for their parents' death to get revenge. Their first target? Ellie Straton, whose deceased father was involved in the wrongdoing of their parents. It's Drew's job to be hired as a lawyer and seduce Ellie for information to take down her company. But the closer Drew and Ellie become, the more they depend on one another and the more Drew realizes that it isn't just a game anymore. But can Drew give up the revenge he's been seeking his whole life for a women he's just met?
From the summary, this one sounded so promising. Unfortunately, I'm just not a fan of excessive legal talk, which this book had a lot of. A main point of the plot was that Drew and his siblings were trying to take down the company of the people who killed their parents. Things got difficult and they had to discuss stock and money and all this other stuff that I didn't really care for. I wish not so much time was spent on that plot and more was spent developing the relationship between Drew and Mia.
Drew and Mia's attraction for one another was pretty obvious from the start, but I didn't think their relationship developed in a believable way. It was on the edge of insta-love and I wish they had actually learned more about each other before they fell hard after simply sleeping with each other a bunch of times. I did enjoy how much Drew cared for Mia and how conflicted he was between staying loyal to his family or the amazing women he had met, but I wish I had a little more from their relationship.
Overall, I thought Ruthless was just an okay read. I expected more connection with the main relationship and wasn't a fan of the amount of time spent on the storyline of the revenge plot. I found the Lawless siblings intriguing, though, and will definitely keep my out for book number 2.