Becoming Calder
By Mia Sheridan
Release Date: October 5, 2014
Source: Amazon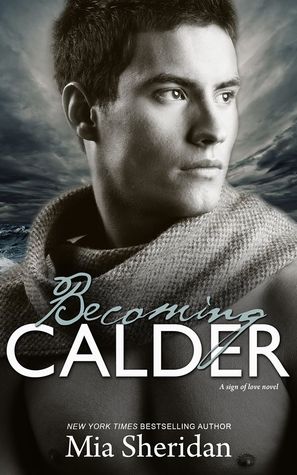 There is a place in modern day America with no electricity, no plumbing, and no modern conveniences. In this place, there is no room for dreams, no space for self-expression, and no tolerance for ambition.
In this place, there is a boy with the body of a god and the heart of a warrior. He is strong and faithful and serves his family honorably. But he dares to dream of more.
In this place, there is a girl with the face of an angel and a heart full of courage. To her family, she is the vision of obedient perfection. But she dares to want that which she has been told can never be hers.
Becoming Calder
is the story of good versus evil, fear versus bravery, and the truth that the light of love has always found its way into even the darkest of places . . . From the beginning of time, to the end of the world.
OH MY GOSH. This was my second book by Mia Sheridan and it sure did not disappoint. Mia's books were on sale for 99 cents on Amazon, so I decided to one-click two of those. AND I'M SO MAD I ONLY BOUGHT TWO. They were both brilliant and now her books are back to full price and I want them all!
Calder has grown up in a place where they are all waiting for the great flood where they will be taken to Elysium. As they wait, there is no electricity, no choice, and no self-expression for those living and working in the community. The day Eden is brought to them as the one who will be their mother and marry their leader, Calder is in awe of the beautiful young girl. As years pass, everyone waits for Eden to turn 18 so that she can be married and they can be lead to Elysium, but Eden isn't so sure she wants to marry their leader and be their savior, especially when she feels so connected with Calder. A romance between Eden and Calder is strictly forbidden, but that doesn't stop them from feeling for the first time and questioning what Calder has grown up in and the only thing he has ever known.
Wow, this book. As I was reading this book, the only way I can really explain my experience is when you see an accident about to happen and you can't look away. The whole world that Calder lives in is SO WRONG and I knew that what Calder and Eden were doing was going to get them into serious trouble, but I couldn't stop reading. I couldn't stop watching them grow to love each other and learn the truths about the world while I was anxiously waiting for everyone else to finally figure out what they were doing. But the romaine between them was so beautiful, sweet, and innocent. I LOVED Calder and how much he cared for his sister and how sweet he was to Eden. I was swooning from the moment we met him.
Just to let you all know, this is a TWO PART book, so there is a sequel. Which means there was a SERIOUS cliffhanger that had me absolutely freaking out. Did I mention I didn't buy the sequel? Because I didn't know there was one and I am kicking myself for not buying it when it was on sale. The ending of this book freaked me out and I need to know what happens to Calder and Eden. I became so emotionally invested in them and I just want them to be happy and together and for life to not be so gosh darn difficult for them anymore.
If you want a very unique story with an incredible romance, you have to pick up Becoming Calder. I could not put this book down and cared about these characters as if they were my real life friends. I am definitely going to read more Mia Sheridan books and never take a sale for granted ever again!