To celebrate the paperback release of Finding Audrey by Sophie Kinsella, a great YA contemporary, I have one copy to giveaway! Here's more info about the book…
By Sophie Kinselle
Paperback Release Date: May 3, 2016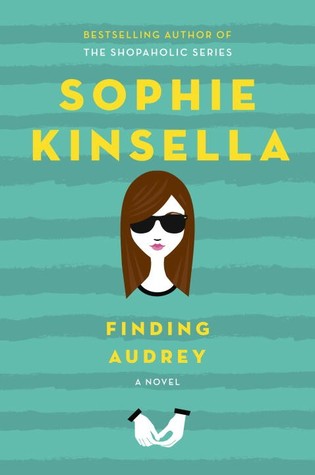 An anxiety disorder disrupts fourteen-year-old Audrey's daily life. She has been making slow but steady progress with Dr. Sarah, but when Audrey meets Linus, her brother's gaming teammate, she is energized. She connects with him. Audrey can talk through her fears with Linus in a way she's never been able to do with anyone before. As their friendship deepens and her recovery gains momentum, a sweet romantic connection develops, one that helps not just Audrey but also her entire family.
Reviewers praise Finding Audrey

A Publishers Weekly Summer 2015 Best YA Book
One of USA Today's "25 Hottest Books of Summer"
One of Los Angeles Times's "30 Summer Books That Kids Will Gobble Up"
One of Seventeen's "New Books We
©
"
"The Shopaholic scribe accurately weaves teenage insecurities with humor
in her heartwarming YA debut."—US Weekly
"Your kids will love it." —Redbook
"An adorable, heartwarming story." —BookPage
"Finding Audrey
stands on its own as one of this summer's breakout YA novels." —Time.com
«
"An outstanding tragicomedy that gently explores mental illness, the lasting effects of bullying, and the power of friends and loving family to help in the healing."
—
Kirkus Reviews,
starred
«
"Sophie Kinsella's YA debut is an insightful and deft handling of teen mental illness." —Shelf Awareness, starred
"Kinsella's knack for humor and sensitivity shine in a story that should easily expand her already substantial fan base."
—
Publishers Weekly
"With her trademark wit and sass, Kinsella sensitively broaches the complexities of young adult mental health." —Booklist
"Kinsella's foray into YA is a welcome one . . . a quick and engaging read with an interesting protagonist." —
Romantic Times Book Review
Sophie Kinsella
is the author of the bestselling Shopaholic series and the novels Can You Keep a Secret?, The Undomestic Goddess, Remember Me?, Twenties Girl, I've Got Your Number, and Wedding Night. Confessions of a Shopaholic was turned into a Hollywood movie. She lives in England.
I have one paperback copy of Finding Audrey to giveaway! Go ahead and enter the rafflecopter below! Giveaway ends June 5th US ONLY