This is a meme hosted by
Breaking the Spine
where every Wednesday bloggers highlight a book that they are eagerly anticipating the release of!
Love Fortunes and Other Disasters
By Kimgerly Karalius
Release Date: May 12, 2015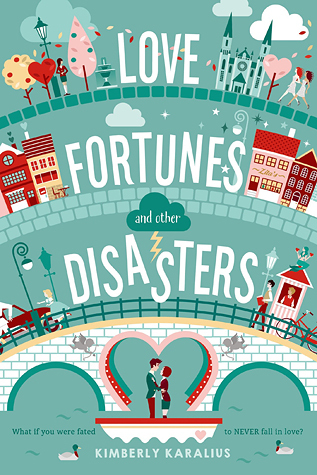 Summary:
Love is real in the town of Grimbaud and Fallon Dupree has dreamed of attending high school there for years. After all, generations of Duprees have successfully followed the (100% accurate!) love fortunes from Zita's famous Love Charms Shop to happily marry their high school sweethearts. It's a tradition. So she is both stunned and devastated when her fortune states that she will NEVER find love.
Fortunately, Fallon isn't the only student with a terrible love fortune, and a rebellion is brewing. Fallon is determined to take control of her own fate—even if it means working with a notorious heartbreaker like Sebastian.
Will Fallon and Sebastian be able to overthrow Zita's tyranny and fall in love?
-------------------------------------
Like always, it was the cover of this gorgeous book that caught my eye. When I read the summary, the story definitely promised to be as whimsical and adorable as the cover. I love the idea that Fallon is determined to find her high school sweetheart who she will one day marry. And who is this "notorious heartbreaker" Sebastian? I will definitely be picking this one up when it comes out in May!