The Start of Me and You
By Emery Lord
Release Date: March 31, 2015
Source: Publisher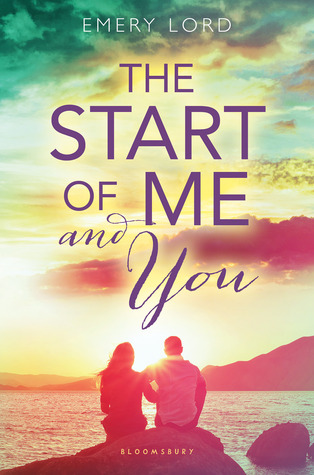 Summary:
Brimming with heartfelt relationships and authentic high-school dynamics
The Start of Me and You
proves that it's never too late for second chances.
It's been a year since it happened—when Paige Hancock's first boyfriend died in an accident. After shutting out the world for two years, Paige is finally ready for a second chance at high school . . . and she has a plan. First: Get her old crush, Ryan Chase, to date her—the perfect way to convince everyone she's back to normal. Next: Join a club—simple, it's high school after all. But when Ryan's sweet, nerdy cousin, Max, moves to town and recruits Paige for the Quiz Bowl team (of all things!) her perfect plan is thrown for a serious loop. Will Paige be able to face her fears and finally open herself up to the life she was meant to live?
Review:
Ever since I read Open Road Summer, Emery Lord has become a must read author for me. Since that book was utterly fantastic and amazing (who doesn't love Matt Finch??), I couldn't wait to get my hands on her upcoming release The Start of Me and You. I actually got to meet Emery last year at a book festival and asked her about her latest novel and she said she wanted to write about the guy who wasn't super gorgeous and had it all, but instead the slightly nerdy, adorable, and realistic guy. I've got to say, Max Watson is definitely that guy!
Last year, Paige Hancock's first boyfriend drowned and left her devastated and emotionally raw. Now, wherever she goes, she gets The Look, the look that everyone knows what happened to her and feels sorry for her. Paige has dealt with her pain for over a year and is ready to reinvent her life, so she makes a list she wants to complete her junior year of high school, a list that will get her back out into the real world and living life again. First step? Getting Ryan Chase, the guy she's had a crush on since middle school, to go out with her. But when Paige starts hanging out with Ryan's cute, nerdy cousin Max, Paige isn't so sure Ryan is the Mr. Perfect she had been wishing for.
Oh gosh, where to start? First, Paige is SO different from Reagan from Open Road Summer. Paige is a girl who I think every reader will love-- she's super organized, dedicated, loves tv, and loves reading. I think everyone can see a little bit of themselves in Paige and that's why I loved her so much. She's still dealing with losing her boyfriend, but she's ready to move on and who better to move on to than her longtime crush? Of course, he may be super cute, nice, and athletic, but their interactions are so realistically awkward in the beginning and I loved it. Paige isn't perfect and doesn't get the first guy she lays her eyes on, which is definitely a real-life occurrence that's often missing in books. I think that Paige's awkwardness, flaws, and inability to have everything the way she imagined it to be make this book so much fun to read.
In the beginning, Emery Lord did a perfect job of making Max appear as normal to us as he did to Paige. I really didn't notice him until he started to spend time with Paige, which is when she started to notice him, too. Their relationship developed very slowly, first as acquaintances and then to friends, and I loved every moment they spent together. Their argument over Pride and Prejudice was adorable and I really enjoyed seeing Paige open up more and more to Max. Paige was still dealing with a lot of pain over losing Aaron and trying to move on, and Max seemed like the only one who she could truly talk to her pain about who would understand. Paige had an awesome group of friends who all had their own problems in the novel, which is another aspect I really enjoyed. The world didn't always revolve around our main character, but rather she had other people and the real world to deal with as well.
Overall, this is another perfect YA contemporary from Emery Lord that you do not want to miss. Paige is a relatable, lovable character who you only want the best for as you watch her deal with the realities of high school and not realizing that what's right in front of you may be what you've needed all along. Max is super sweet and who wouldn't want a guy like him, especially seeing as he's actually read Pride and Prejudice and knows all of Charles Dickens's novels? Gah, Emery Lord sure does know how to create the perfect book boyfriend! If you haven't yet, you MUST read anything and everything by Emery Lord! She knows how to write those YA contemporaries like no other.