Tough Enough (Tall, Dark, and Dangerous #2)
By M Leighton
Release Date: November 3, 2015
Source: Publisher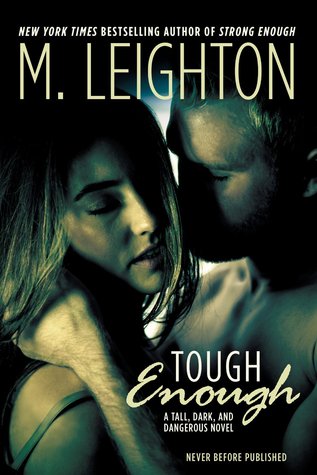 He's a fighter who never loses, but is he tough enough to win her heart?
There was a time when I had everything–a wonderful family, a bright future. Love. But all that was taken away in a single night, torn from me like flesh from bone. Since then, I've hidden away in my second-choice job as a makeup artist. But I prefer it that way, actually. I'm comfortable in the shadows, where no one can see my scars.
Kiefer Rogan literally took my breath away the moment I met him. MMA champion-turned-actor, notorious playboy, charming to a fault—he's everything I vowed to avoid.
But he just wouldn't stop until I opened up and let him in. Maybe I should've tried harder to resist him. Maybe I shouldn't have fallen in love with him. Because I, of all people, know that everyone has secrets. Scars. And that they're usually ugly and painful and destructive to the people we love most.
I just never guessed that they could be deadly, too.
I have been dying to read this series by M Leighton ever since the first book came out. While I was starting the first one, though, my dog decided to eat it and I had to skip right to the second book. The story ended up being just as romantic and addicting as the cover promised!
Katie has buried herself in her work and never lets anyone get close to her. With her scars, she can never trust anyone again. But when fighter Kiefer Rogan ends up in her makeup chair when he decides to try his hand at acting, Katie is caught off guard. Rogan is charming and intrigued by the makeup artist who does everything to hide herself. Every time Rogan catches sight of the true Katie, he's even more determined to break down those walls. The closer Rogan and Katie get, though, the harder Katie knows she will fall when reality comes crashing down.
I've got to say, I was definitely excited that Katie was a makeup artist. Who knew there could be such intensity between a makeup artist and their subject? The moments that Katie and Rogan spent together were very personal and perfect for Katie to open up to someone after all that she had gone through. It takes awhile to understand what scars both Katie and Rogan were hiding, but I loved watching them slowly open up to each other and figuring out their secrets along with them.
While I loved Katie and Rogan's relationship, I thought that Rogan's actions near the end were a little bit unnecessary and only included to add drama to the plot. I don't want to give anything away, but I feel like a plot element was added to create problems for the main couple and I didn't really get anything out of it. Also, I wish we got more of Rogan's brother. I loved how Katie got along with Rogan's brother and I feel like he wasn't in the story as much as he could have been. It was fun to see Katie let loose with people other than Rogan.
If you can't tell, I was very pleased with how Tough Enough turned out. While I was a bit disappointed by some events near the end, I really did enjoy how unique and romantic this book was. With a makeup artist and a super hot fighter/actor, what more could you want? If you're a fan of romances between people with broken pasts who are learning to trust again, then you definitely need to pick up Tough Enough!