The Bronze Horseman
By Paullina Simons
Release Date: January 1, 1997
Source: Own Copy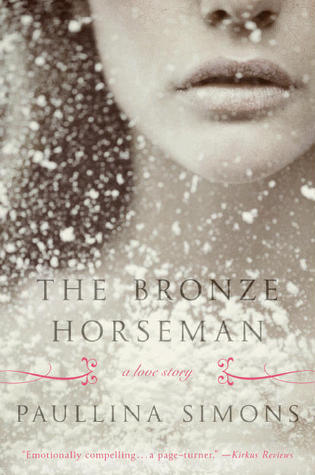 The golden skies, the translucent twilight, the white nights, all hold the promise of youth, of love, of eternal renewal. The war has not yet touched this city of fallen grandeur, or the lives of two sisters, Tatiana and Dasha Metanova, who share a single room in a cramped apartment with their brother and parents. Their world is turned upside down when Hitler's armies attack Russia and begin their unstoppable blitz to Leningrad.
Yet there is light in the darkness. Tatiana meets Alexander, a brave young officer in the Red Army. Strong and self-confident, yet guarding a mysterious and troubled past, he is drawn to Tatiana—and she to him. Starvation, desperation, and fear soon grip their city during the terrible winter of the merciless German siege. Tatiana and Alexander's impossible love threatens to tear the Metanova family apart and expose the dangerous secret Alexander so carefully protects—a secret as devastating as the war itself—as the lovers are swept up in the brutal tides that will change the world and their lives forever.
Words can't even begin to explain how hyped this book is. I've had this book on my shelves for awhile and decided to finally take the plunge during Christmas break. Since I love romances, I was ready to be blown away by the incredible romance so many people describe this book to have…
Tatiana Metanova has always been close to her family and they are all she has. Sharing two bedrooms with her parents, grandparents, older sister Dasha, and twin brother Pasha, Tatiana is used to sacrificing some things for the good of the family. What she doesn't expect to have to sacrifice, though, is the love of her life. From the moment they laid eyes on each other, the young Army officer Alexander cannot deny the intense attraction he and Tatiana have. When they go home together, though, Tatiana learns that Alexander is the soldier Dasha had recently revealed as the love of HER life. As war arrives and torments Russia, Tatiana must give up her soldier for her sister, but their love proves to be stronger than any war.
Like I said, I had very high expectations for the romance in this book. Unfortunately, I didn't end up enjoying this book as much as it seems everyone else has. First off, I was annoyed with how naive and young Tatiana seemed in the beginning. A huge part of her character was about how naive she was, but I just got annoyed with her and how she acted like she was 12 instead of 17. She did definitely mature by the end of the book, but I wasn't enjoying her character in the beginning. I also hated her reasonings for not putting herself first. I got that she loves her family, but come on! There is only so much a girl is expected to give up before she should be able to do something for herself.
As a historical book (it takes place during WWII), it is definitely realistic in what the citizens of a war torn country go through. That being said, though, parts of this book dragged on when Tatiana was trying to survive in the city. I understand the author is trying to be realistic, but I felt like parts of this book dragged on way too much and I was just bored. Only a year goes by in the 800 pages of this book and I think a lot of things could have been fast forwarded instead of reiterated over and over again.
While many people have described this romance as heart wrenching, I was more annoyed with the trials Tatiana and Alexander went through. They were so frustrating with how they acted towards each other and how much they doubted each other. It's like they both wanted to sabotage their relationship at points and I was just annoyed and wanted to yell at them to just get over themselves. The trials they went through were more annoying than heart wrenching.
Overall, this was a severe disappointment. I struggled through the 800 pages and was so happy when it was finally over. Don't get me wrong, the whole war aspect was very eye-opening and realistic, but I was not a fan of the romance and just couldn't get behind the decisions the characters made. I went back and forth between a 2 and a 3 star rating, but the potential for an amazing story was there, it just didn't completely click with me.