The Wedding Date
by Jasmine Guillory
Release Date: February 1, 2017
Source: Publisher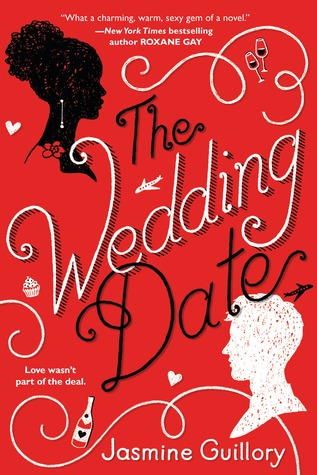 A groomsman and his last-minute guest are about to discover if a fake date can go the distance in a fun and flirty debut novel.
Agreeing to go to a wedding with a guy she gets stuck with in an elevator is something Alexa Monroe wouldn't normally do. But there's something about Drew Nichols that's too hard to resist.
On the eve of his ex's wedding festivities, Drew is minus a plus one. Until a power outage strands him with the perfect candidate for a fake girlfriend...
After Alexa and Drew have more fun than they ever thought possible, Drew has to fly back to Los Angeles and his job as a pediatric surgeon, and Alexa heads home to Berkeley, where she's the mayor's chief of staff. Too bad they can't stop thinking about the other...
They're just two high-powered professionals on a collision course toward the long distance dating disaster of the century--or closing the gap between what they think they need and what they truly want
…
I am a sucker for wedding movies. The Wedding Date, Something Borrowed, Made of Honor…seriously I could watch those over and over again. When I heard about this book, to say I was excited is an understatement. Two people meet in an elevator and decide to go to a wedding together? I had to read it!
Nothing exciting ever happens to Alexa Monroe. But the moment she gets stuck in the elevator with Drew Nichols, an extremely attractive man, she can't help but feel like something is going to happen. Drew feels it, too, and finds himself asking Alexa to attend the wedding with him that he's in town for. To her surprise, Alexa says yes and Drew and Alexa have a blast pretending to be dating to all of Drew's friends. Alexa and Drew find themselves flying out to visit each other on weekends and can't stop thinking about one another. But they live hours away. And they don't need to date; Alexa has her job working for the mayor and Drew is a doctor. They don't have time. But sometimes, you can't plan for love…
From the beginning this book was so much fun. I loved how Drew and Alexa flirted in the elevator when they met and how they just clicked with one another. It was fun watching them act like they were dating at the wedding. Then, when it came to saying goodbye, they didn't want to leave each other. Of course, it's so hard two people who live so far away to fall in love when they both have such established jobs where they live already. Add in the fact that Drew is scared of commitment and has never calls a girl his girlfriend, he's super conflicted over this new relationship and woman he can't stop thinking about.
As Drew and Alexa spent more and more weekends flying between each other, I appreciated how they both had to take a hard look at each other and what they were doing. Drew was so sweet and really listened to Alexa and her projects and what she was dealing with at work. Drew was also having a tough time with his own job and other things to think about while thinking about his relationship with Alexa.
While this book started out as a wedding romance, it quickly grew into two people who enjoyed each other's company and wanted to see each other more. While they had their relationship to ponder over, they each also had story lines that were very touching and added so much more to their characters. For a fun and sweet wedding romance, you have to pick up The Wedding Date!