Talking as Fast as I Can
By Lauren Graham
Release Date: November 29, 2016
Source: Publisher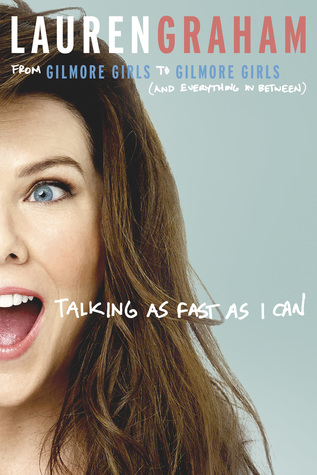 In this collection of personal essays, the beloved star of Gilmore Girls and Parenthood reveals stories about life, love, and working as a woman in Hollywood—along with behind-the-scenes dispatches from the set of the new Gilmore Girls, where she plays the fast-talking Lorelai Gilmore once again.

In Talking as Fast as I Can, Lauren Graham hits pause for a moment and looks back on her life, sharing laugh-out-loud stories about growing up, starting out as an actress, and, years later, sitting in her trailer on the Parenthood set and asking herself, "Did you, um, make it?" She opens up about the challenges of being single in Hollywood ("Strangers were worried about me; that's how long I was single!"), the time she was asked to audition her butt for a role, and her experience being a judge on Project Runway ("It's like I had a fashion-induced blackout").

In "What It Was Like, Part One," Graham sits down for an epic Gilmore Girls marathon and reflects on being cast as the fast-talking Lorelai Gilmore. The essay "What It Was Like, Part Two" reveals how it felt to pick up the role again nine years later, and what doing so has meant to her.

Some more things you will learn about Lauren: She once tried to go vegan just to bond with Ellen DeGeneres, she's aware that meeting guys at awards shows has its pitfalls ("If you're meeting someone for the first time after three hours of hair, makeup, and styling, you've already set the bar too high"), and she's a card-carrying REI shopper ("My bungee cords now earn points!").

Including photos and excerpts from the diary Graham kept during the filming of the recent Gilmore Girls: A Year in the Life, this book is like a cozy night in, catching up with your best friend, laughing and swapping stories, and—of course—talking as fast as you can.
From the moment I started reading this book, I felt like Lauren Graham was talking directly to me. She writes so much like she talks, so there was a ton of fun and sarcasm in this book. I was so excited to read more about Lauren's life and her time as Lorelei Gilmore.
Even though this was a memoir and covered Lauren's whole life, I was expecting a whole lot more Gilmore Girls and Parenthood in this. Since it is only just over 200 pages, I felt like we didn't get as much from the later part of her current life. I love Parenthood and we barely got anything from her time acting in the show apart from how she ended up dating her current boyfriend, Peter, who played her brother in the show. Where was the love for Parenthood?!?
While we did get a lot of Gilmore Girls, specifically in the second half of the book, I felt like the revival parts were short and rushed. She reflected on what she had written in her journal while filming, but I felt like it was just a quick summary and there wasn't a lot of depth to it or enough time spent on it. She sped through so many people (many of which I didn't recognize by their real names and didn't want to spend the time to look them all up) and I felt like I was getting a glossed over version of filming. But that's just me being picky.
I do have to say, though, that I typically don't read memoirs because it's hard to stay focused and really care about the whole book, but I actually really loved this one. I flew through this book and felt like Lauren was personally talking to me about her life. I laughed out loud in some parts and loved getting an inside look into her journey to becoming a successful actress. Every fan of Gilmore Girls or Lauren Graham has to pick up this book. It's like reading about a friend who is just as flawed as the rest of us and isn't afraid to make fun of herself a little.