Preston's Honor
By Mia Sheridan
Release Date: February 19, 2017
Source: Publisher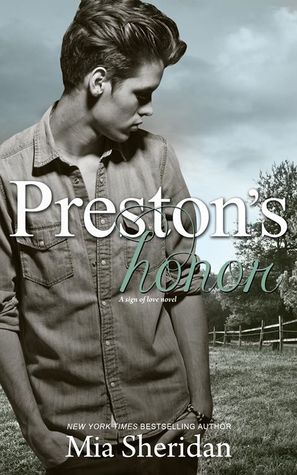 There were two brothers—identical twins—and though I loved them both, my soul belonged to only one.
Annalia Del Valle has loved Preston Sawyer all her life. The daughter of an impoverished migrant farmworker, she grew up as an outcast in what was no more than a tiny, cooped up shack in California's Central Valley. But her heart found freedom in the land, in the wide-open spaces of Sawyer Farm, and in the boys who were her only friends.
Preston has yearned for Annalia since he was a boy. But a sense of honor kept him from pursuing her until he's unable to hold back any longer and their worlds—and bodies—collide one hot summer night. A night that sets off a chain of events that will alter their lives forever.
Now Annalia is back in town after disappearing without a trace for six long months. Determined to reclaim her heart, her life, and the baby she left behind—the son who was created in a moment of lust and love and pent-up yearning.
Preston has survived grief, a ravaging drought, and the despair of heartache, but he's not sure he can survive Annalia again. And he might be unwilling to try. Will pride and bitterness keep him from the one thing he's always longed for?
How do you heal what is irreparably broken? How do you forgive that which is unforgivable? How do you discover that real honor comes not from circumstance, but from the place deep in our hearts where truth resides? And how do you move beyond the wounds of the past to discover that some loves are as solid as the ground beneath your feet, and as enduring as the earth itself?
Mia Sheridan has a way of writing completely unique and utterly emotional books. I was so excited to see she had a new book coming out that promised yet another heartbreaking story.
Ever since she was born, Annalia has felt like a burden to her mother, who is an illegal immigrant, and has felt embarrassed about how poor she is. When she is with twins Preston and Cole, though, Annalia forgets about her problems and just enjoys being with her two best friends. Despite how close the three grow over the years, their friendship has never been in the public eye because Annalia knows no one would ever accept her. That doesn't stop Annalia from falling in love with Preston, or Preston from falling in love with Annalia. Preston, though, has never shown Annalia how he really feels because of his honor for his brother. As their chemistry builds after so many years denying what they feel for one another, one night of lust changes their lives forever and they are both drowning in emotions and how to face a future neither of them knows how to live.
Since this book is told in a nonlinear fashion, you know what is going to happen in the future before being told their past and how Annalia and Preston fell in love. I love stories that do this because you know what's going to happen and you're just waiting for it to finally occur and you need to figure out how that moment was going to even happen in the first place. It was so heartbreaking watching Annalia grow up with absolutely nothing and feel like a burden to all of those around her. I loved how she could forget everything when she was with Preston and Cole. There is nothing more heartbreaking than watching two people love each other but not tell one another they love each other. Preston and Annalia were just kids, so it was so hard to see them have such strong feelings for one another but not communicate well and doubt what the other feels.
I have to say that I think I enjoyed the years that Preston and Annalia were in high school more than afterwards when we catch up to what was told to us in the beginning of the book. When we got to where Annalia and Preston were after college, I thought it was more of them learning to love again and trust one another instead of them learning that they really did love each other. Things started to drag out near the end and I didn't love it as much as I did when they were trying to deny their feelings for one another. In the later years, they knew how they felt, but they just didn't know a healthy way to show it to one another. In the end, though, it was still a heartbreaking, raw story of two people who didn't know how to properly love each other.
If you can't tell, this was another emotional, raw romance from Mia Sheridan. There were heartbreaking circumstances outside of our main characters' control and they really didn't know how to be together after years of being apart. There was also a lot explored when it came to being an immigrant and living in poverty, which I think made this book even more emotional and gave Annalia even more depth to her character. For a book that will pull on your heart string and have you rooting for the couple to achieve their HEA from the start, you definitely need to pick up Preston's Honor.