The Hating Game
By Sally Thorne
Release Date: August 9, 2016
Source: Amazon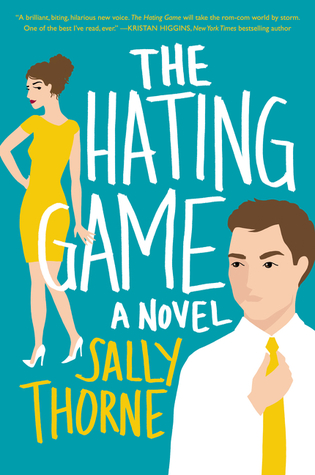 Nemesis (n.)
1) An opponent or rival whom a person cannot best or overcome;
2) A person's undoing;
3) Joshua Templeman.
Lucy Hutton and Joshua Templeman hate each other. Not dislike. Not begrudgingly tolerate. Hate. And they have no problem displaying their feelings through a series of ritualistic passive aggressive maneuvers as they sit across from each other, executive assistants to co-CEOs of a publishing company. Lucy can't understand Joshua's joyless, uptight, meticulous approach to his job. Joshua is clearly baffled by Lucy's overly bright clothes, quirkiness, and Pollyanna attitude.
Now up for the same promotion, their battle of wills has come to a head and Lucy refuses to back down when their latest game could cost her her dream job…But the tension between Lucy and Joshua has also reached its boiling point, and Lucy is discovering that maybe she doesn't hate Joshua. And maybe, he doesn't hate her either. Or maybe this is just another game.
I have heard so many amazing things about this book, so I didn't even hesitate to order it from Amazon. While it took me a little bit longer to read it, I couldn't wait to dive into this laugh out loud, enemies to lovers romance.
Lucy and Josh are the definition of enemies. Working in the same room as assistants to the co-CEOs of a publishing company that is the product of two separate companies merging, Lucy and Josh dedicate their lives to their work and one-uping one another. When a promotion is announced, the competition between Lucy and Josh becomes even more intense, but Lucy starts noticing something else becoming more intense and it's a feeling she's never had towards Josh before…
Oh, this book. A lot of time, enemies to lovers romances are insta-attraction that turns into insta-love. At the beginning of this book, Lucy hadn't even ever thought of Josh that way and only saw him as an annoying enemy she had to beat. Their competition was so much fun and I loved how Lucy was so observant over everything Josh did and became so annoyed by it. While she may have hated Josh, I also loved how loving and just plain-old nice Lucy was. Lucy's kindness balanced out Josh's harshness well, but they still challenged each other and pushed each other to be each other's best.
What I loved most about this book, though, was when Lucy and Josh started to hang out after work and slowly start to fall for each other. This is definitely a slower romance and I loved how Lucy started to feel weird about how she felt about Josh. Their interactions were so fun and I loved seeing Josh show his vulnerable side as Lucy discovered his past and understood why he was the way he was.
How is this Sally Thorne's debut novel? This novel had laugh-out-loud moments and a slower romance that evolved the more the characters really got to know each other. I loved both of the main characters and how feisty, yet vulnerable they could be with each other. Lucy was such a relatable character and I loved how flawed and real she was. For a fun, charming, and entertaining romance, you have to pick up The Hating Game.