A Portrait of Emily Price
By Katherine Reay
Release Date: November 1, 2016
Source: Publisher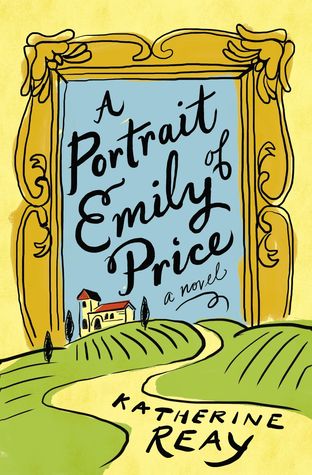 Art restorer Emily Price has never encountered anything she can't fix—until she meets Ben, an Italian chef, who seems just right. But when Emily follows Ben home to Italy, she learns that his family is another matter . . .
Emily Price—fix-it girl extraordinaire and would-be artist—dreams of having a gallery show of her own. There is no time for distractions, especially not the ultimate distraction of falling in love.
But Chef Benito Vassallo's relentless pursuit proves hard to resist. Visiting from Italy, Ben works to breathe new life into his aunt and uncle's faded restaurant, Piccollo. Soon after their first meeting, he works to win Emily as well—inviting her into his world and into his heart.
Emily astonishes everyone when she accepts Ben's proposal and follows him home. But instead of allowing the land, culture, and people of Monterello to transform her, Emily interferes with everyone and everything around her, alienating Ben's tightly knit family. Only Ben's father, Lucio, gives Emily the understanding she needs to lay down her guard. Soon, Emily's life and art begin to blossom, and Italy's beauty and rhythm take hold of her spirit.
Yet when she unearths long-buried family secrets, Emily wonders if she really fits into Ben's world. Will the joys of Italy become just a memory, or will Emily share in the freedom and grace that her life with Ben has shown her are possible?
Every book Katherine comes out with, I get so excited because she always uses inspiration from classics I know and love. This book promised a romance between an art restorer and an italian chef and I couldn't wait to watch them fall in love.
Emily Price loves her job as an art restorer, but creating her own art is her true passion. She's content with her life, though, until she runs into Italian chef Benito Vasallo. Ben is working to restore his Aunt and Uncle's restaurant and his passion captures Emily and the two find themselves falling deeply in love. Emily soon finds herself married to Ben and moving back to Italy with him, but Emily doesn't feel welcome and unearths some secrets the family has kept buried for far too long.
I knew that this was going to be a fast romance since the main character fell in love and married a man within a week, but I still wasn't a fan of the instalove. I liked Ben enough, but I didn't feel like he was the most charming or had the strongest connection with Emily. Romantically, I wanted more insight into their relationship and felt like we just got a surface level of their attraction to one another. I didn't completely buy into the fact that they felt like they had found the one and couldn't imagine life without one another.
When Ben and Emily got to Italy, I was so excited to see Emily explore and fall in love with the foreign country. Instead, I was a bit bored by the story and how cooped up Emily was in the family home. I get that the point was that Emily didn't realize how things would be when she agreed to move and live with Ben, but I found myself bored a lot of the time. I did enjoy Ben's family and the emotional turmoil they were all hiding, but as for Emily, I just didn't seem to care about what she was going through.
Overall, this was a sweet and cute read, but it lacked the romance and character depth to hold my interest. The characters were interesting, but I didn't love this one as much as I wanted to.