Power Play
By Tiffany Snow
Release Date: July 30, 2015
Source: Publisher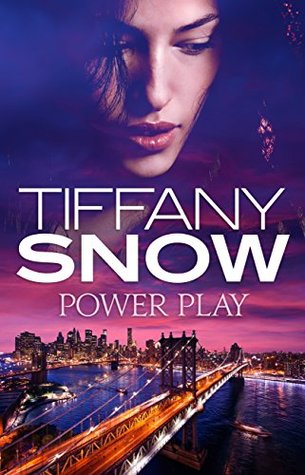 THIS KIND OF BUSINESS CAN ONLY BE PERSONAL
Sage Reese lives for her job. More precisely, she lives for her debonair boss, Parker Andersen. Sage handles everything for Parker, even as she fantasizes about the one thing that isn't in her job description: him. But when a high-stakes account crosses the line from shady to deadly, a tough cop starts giving Sage the attention she wishes Parker would . . .
Detective Dean Ryker couldn't be more different from Parker. While Parker wears expensive suits like a second skin and drives a BMW, Ryker's uniform is leather jackets and jeans . . . and his ride of choice is a Harley. While Parker's sexiness is a reserved, slow burn, Ryker is completely upfront about what-and who-he's after. And Sage tops his list.
Now, as Ryker digs deeper into the dark side of Parker's business, Sage finds herself caught between two men: the one she's always wanted - and the one who makes her feel wanted like never before . . .
I have never heard of Tiffany Snow, but this book sounded too good to pass up. Recently, I've been loving stories of women working for very domineering bosses, only to fall for them, so I couldn't wait to see how Sage's professional relationship with her boss crossed over into not-so-professional. Oh, and throw in a hot cop who starts showing interest in her too and I knew I had to read this story.
Sage Reese's life is her job and every relationship she's had has failed because of her commitment to her work. Well, her commitment to her boss Parker Anderson. When he calls, Sage comes running to his side. Spending so much time working for Parker, Sage can't help but fantasize about the demanding, yet oh so attractive man. But the moment detective Dean Ryker walks into Parker's office, Sage's safe life is thrown upside down. Now, Sage realizes Parker's business may not be so legal or safe and the sexy cop makes it no secret he's interested in Sage. As Ryker investigates Parker's business, Sage finds herself caught between two very different, yet completely irresistible men.
Holy moly. I did NOT expect to love this book so much. Seriously, it had everything I love in my romances. There were brooding, demanding, hot men, some serious danger and suspense, and a sassy heroine. Sage is so relatable and I absolutely loved how she could hold her own with the demanding Parker and the playfully seductive Ryker. And boy did she have her hands full! First, she was stuck between ex-best friends (Ryker and Parker) who both started showing interest in her. Then, throw in some Russian gangsters who are threatening her life and she has A LOT to deal with.
I know some people don't like love triangles, but this one was an absolute killer and I was OBSESSED. I loved both Ryker and Parker for individual reasons and I felt so bad for Sage for having to choose between them. There was already bad blood between them because they used to be best friends but broke apart because of a girl. Now, history is repeating itself and they're fighting over a woman again. There are moments where Sage utterly hates both of them and moments where she wants to throw herself into their arms and absolutely devour them. I loved how maddening both men were but also how much they truly cared about Sage. Parker and Ryker did so much to protect Sage from the dangers they were facing even when she wasn't sure who she could really trust. They were there for her and definitely weren't shy about lending a shoulder for her to lean on…
Gah, this book. I died with that ending and seriously want the second book! What's going to happen to Sage? What's going to happen to Parker's business? She did choose a man in the end, but I'm not so sure how sound that decision was…and since I loved both men it made me both happy and angry at the same time. Ugh! Stinkin' love triangles that just pull at my heart! If you love a book that has a relatable main character, some dangerous suspense, and irresistibly hot men, you have to pick up Power Play!