The Deal (Off Campus #1)
By Elle Kennedy
Release Date: February 24, 2015
Source: My mother for my birthday!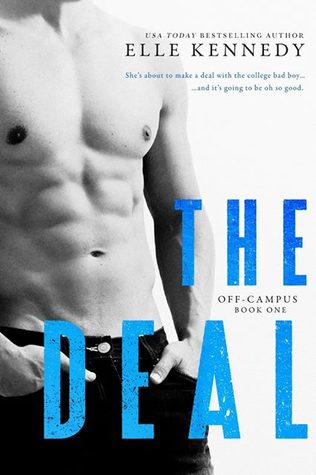 She's about to make a deal with the college bad boy...
Hannah Wells has finally found someone who turns her on. But while she might be confident in every other area of her life, she's carting around a full set of baggage when it comes to sex and seduction. If she wants to get her crush's attention, she'll have to step out of her comfort zone and make him take notice... even if it means tutoring the annoying, childish, cocky captain of the hockey team in exchange for a pretend date.
...and it's going to be oh so good.
All Garrett Graham has ever wanted is to play professional hockey after graduation, but his plummeting GPA is threatening everything he's worked so hard for. If helping a sarcastic brunette make another guy jealous will help him secure his position on the team, he's all for it. But when one unexpected kiss leads to the wildest sex of both their lives, it doesn't take long for Garrett to realize that pretend isn't going to cut it. Now he just has to convince Hannah that the man she wants looks a lot like him.
Oh. My. Gosh. Elle Kennedy was already one of my favorite authors because of her romantic suspense series. But throw together one of my favorite authors and my favorite genre and BAM. You get one addicting story. I don't know what Elle Kennedy has been doing, but she seriously cannot stop writing new adult because she is a master at the genre.
Hannah Wells hasn't had the best of luck when it comes to her more intimate relationships. When she finally meets a guy that makes her feel all tingly inside, she doesn't know where to start. Garrett Graham is the stud hockey player on campus and would normally never talk to a girl as plain as Hannah, but he needs her to tutor him in philosophy in order to still have eligibility to play hockey. Hannah wants nothing to do with Garret, but when he comes up with a proposition that could finally get Hannah noticed by her crush, she finds herself helping out the arrogant, cocky hockey player. The more time they spend together, Hannah and Garret actually start to enjoy each other's company. Garrett isn't prepared to like Hannah so much and finds himself not liking how much attention Hannah starts to get from guys who are not him…
OH. MY. GOSH. I know that I already said that, but seriously! I was up until 2 am reading this book because I could absolutely not put this one down. The first thing that I loved about this book was the relationship between Hannah and Garrett. They start off not really liking each other and they banter non-stop, which is definitely entertaining. Then, they start to become friends and actually like to spend time with each other. I loved their Netflix binge-watching sessions and how much they really worked together to help Garrett pass his exam. Of course, it was so adorable how Garrett started to realize how much he actually liked Hannah and how they started to deal with their budding attraction for one another. You could see their relationship grow and develop, which is often skipped over in romance novels. The pacing was perfect and made you fall in love with these characters even more.
Speaking of falling in love with characters, it is IMPOSSIBLE not to fall in love with Garrett. Sure, he comes off as cocky and never says no to a new Puck Bunny, but oh boy is he sweet. SO SWEET. *sigh* When Garrett cares for someone, he really cares for them and you could see how much he liked Hannah by the way he treated her. He was so sweet and showed her how much of a gentleman he really was. And, of course, he was amazing on the ice and I loved those sports moments thrown into the mix. There are not enough hockey romances out there and I do love my hockey players!
Can you tell I loved this book? Because I completely and utterly loved it. There were emotional moments regarding both Hannah's and Garrett's pasts that were heartbreaking but they were there for each other to work through them. Oh, and let's not forget about the undeniable, intense chemistry between Hannah and Garrett. Like I said, I could not put this book down until I was at the very end. I am dying to pick up the next book and see what else Elle has in store for us in this new adult world with some irresistible hockey players!