99 Percent Mine
by Sally Thorne
Release Date: January 29, 2019
Source: Publisher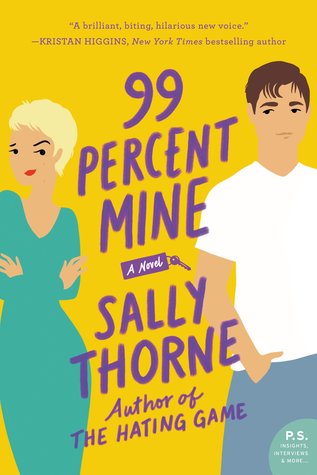 Crush: a strong and often short-lived infatuation, particularly for someone beyond your reach…

Darcy Barrett has undertaken a global survey of men. She's travelled the world, and can categorically say that no one measures up to Tom Valeska, whose only flaw is that Darcy's twin brother Jamie saw him first and claimed him forever as his best friend. Despite Darcy's best efforts, Tom's off limits and loyal to her brother, 99%. That's the problem with finding her dream man at age eight and peaking in her photography career at age twenty—ever since, she's had to learn to settle for good enough.

When Darcy and Jamie inherit a tumble-down cottage from their grandmother, they're left with strict instructions to bring it back to its former glory and sell the property. Darcy plans to be in an aisle seat halfway across the ocean as soon as the renovations start, but before she can cut and run, she finds a familiar face on her porch: house-flipper extraordinaire Tom's arrived, he's bearing power tools, and he's single for the first time in almost a decade.

Suddenly Darcy's considering sticking around to make sure her twin doesn't ruin the cottage's inherent magic with his penchant for grey and chrome. She's definitely not staying because of her new business partner's tight t-shirts, or that perfect face that's inspiring her to pick up her camera again. Soon sparks are flying—and it's not the faulty wiring. It turns out one percent of Tom's heart might not be enough for Darcy anymore. This time around, she's switching things up. She's going to make Tom Valeska 99 percent hers.
We have all been waiting for this book. After The Hating Game took the romance genre by storm, I know I have been dying for another book from Sally. Going into this one, though, I kept an open mind and an open heart for a new set of Sally's characters.
Darcy has always been the broken child with the heart condition. Everyone worries about her, so when she just up and leaves to travel the world, she's living life on her terms. What she can't run from, though, is the perfection that is Tom Valeska. As her twin brother's childhood best friend, Darcy has always known that Tom is off limits, but that hasn't stopped her feelings for him. Now, Darcy is back home and forced to work with Tom on renovating her recently passed Grandmother's house. Darcy and Tom are forced to confront where they fit in each other's lives while confronting their own flaws and fears.
Okay, going into this one, it is SO IMPORTANT to not expect another Hating Game. These characters couldn't be more different and the lessons they learn definitely impacted their characters by the end of the story. That being said, I was so pleased to find myself falling head over heels for Tom's character. Tom is the epitome of the golden boy. Ugh, I couldn't stop swooning! He is so dedicated and gentle and cared so genuinely for Darcy. It was fun watching them dance around each other as they tried to ignore their attraction.
As for Darcy's character, she definitely took some warming up to before I ended up enjoying her. She is what I would consider a spunky character. She spent years traveling and is now working at a bar until she can fix her grandma's place and leave again to go traveling. She definitely has issues and has to learn to deal with those. I loved how working on her grandmother's house was kind of therapeutic and helped both Darcy and Tom learn more about themselves and confront the insecurities they have about themselves.
Overall, I ended up loving this book as it's own story. Tom is a new book boyfriend and I ended up loving Darcy in her own way. The romance in this book was so slow book and so worth the wait. I definitely recommend going into this one with absolutely no expectations and you're bound to love it!