Want You
by Jen Frederick
Release Date: July 1, 2018
Source: Author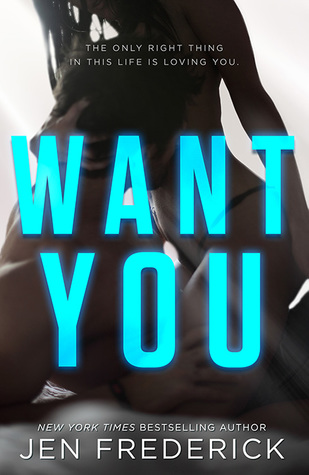 Bitsy: I might be only nineteen, but I know what I want. It's Leka Moore. I don't care that he took me in when he was barely more than a kid himself. I don't care that he raised me. I don't care everyone thinks being with him is wrong. I know we belong together, and the only person I need to convince is him.

Leka: I found her in the corner of a dark alley. If I hadn't taken her with me, she would've died that night—or maybe worse. Before I knew it, she became the light in my dark life, the haven from the madness. I watched her grow up. I tried to teach her right from wrong. Now that she's an adult, I'm feeling things that no good man should ever feel. But then…I've never been a good man. I have a chance at redemption by saving her from the greatest danger of all—me.
I've got to say, when I first read the synopsis of this book, I was pretty wary. I am super picky when it comes to age gap books, but I love Jen Frederick's books that she writes with Elle Kennedy as Erin Watt, so I was willing to give this one a chance!
Leka Moore has been on his own for as long as he can remember. In order to take care of himself, though, he's had to do some pretty bad things for some pretty bad people. The only light in his life is Bitsy, the little girl he saved and took under his wing. The little girl who isn't so little anymore. Bitsy is now 19 and she knows what she wants. The only man she's ever loved her whole life. Leka.
This book was interesting because it starts out with Leka finding Bitsy and taking care of her, so both of them are super young and are only concerned with surviving. I really liked this because it didn't feel creepy, then, when Leka saw Bitsy in a more romantic way later on. Yeah, he's older, but he's well aware of his attraction for her and she really isn't all that much younger than him when she's 19. They haven't seen each other in years, which I also felt made their relationship a bit more okay and believable in my eyes.
I was surprised how dark this book ended up being, especially pertaining to Leka's job. This book is really more of a mafia/mob romance and a lot of decisions Leka makes are to make sure that Bitsy is safe, even if it means sacrificing his own happiness. I will warn you, this book is super dark and these characters see some pretty gruesome things.
While the beginning is sort of slow because the world and relationship dynamic between Leka and Bitsy is being set up, I really enjoyed this story. Jen Frederick isn't afraid to go to the dark places and I think that if you like mafia romances with a forbidden twist, you'll enjoy Want You.