The Kiss Quotient (The Kiss Quotient #1)
by Helen Hoang
Release Date: June 5, 2018
Source: Publisher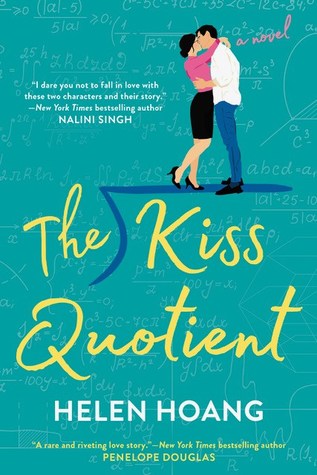 A heartwarming and refreshing debut novel that proves one thing: there's not enough data in the world to predict what will make your heart tick.

Stella Lane thinks math is the only thing that unites the universe. She comes up with algorithms to predict customer purchases--a job that has given her more money than she knows what to do with, and way less experience in the dating department than the average thirty-year-old.

It doesn't help that Stella has Asperger's and French kissing reminds her of a shark getting its teeth cleaned by pilot fish. Her conclusion: she needs lots of practice--with a professional. Which is why she hires escort Michael Phan. The Vietnamese and Swedish stunner can't afford to turn down Stella's offer, and agrees to help her check off all the boxes on her lesson plan--from foreplay to more-than-missionary position...

Before long, Stella not only learns to appreciate his kisses, but to crave all the other things he's making her feel. Soon, their no-nonsense partnership starts making a strange kind of sense. And the pattern that emerges will convince Stella that love is the best kind of logic...
The moment that I heard about this book, I knew that I HAD to read it. Then I saw the cover and I couldn't get this book out of my head. All I can say is that this book was everything I wanted it to be and more.
Stella Lane likes order and predictability. She's horrible in social situations and finds comfort in math. When it comes to intimacy, Stella freezes. Stella concludes that she just needs more practice at being intimate with a man in order to have a successful relationship, so she hires Michael, a half-vietnamese escort who happens to be gorgeous, to train her in the art of all things physical. Michael knows he needs Stella's money, but as things start becoming more and more real for the both of them, Michael feels he can never be good enough for Stella while Stella only wants someone to love her for her, quirks and all.
From the moment this book started, I fell in love with Michael's character. Stella has autism, but Michael has no idea, and I loved how patient he was with Stella and how he found her personality and quirks endearing instead of annoying. As Michael spent more time with Stella, he found her personality just another part of Stella and I adored that about him.
And can we talk about how relatable Stella was? I loved how honest and open she was about feeling super awkward when it came to intimacy. She was so straight with Michael and so open to learning from him. And when she started to develop feelings for him? Ugh, so cute. I loved how she got to know his family and how they were such a big part of the storyline. I wanted things to work out SO BADLY and I was hooked throughout this entire book.
While I had high expectations for this book, I did not expect to fall head over heels in love with this story and its characters. I loved Stella and Michael and this is a book that will have you rooting SO HARD for the main couple to stop being so stubborn and just be together already. If you love a relatable heroine and a sweet, swoon-worthy hero, you HAVE to pick up The Kiss Quotient!