Beautiful Bastard (Beautiful Bastard #1)
by Christina Lauren
Release Date: February 12, 2013
Source: Own Copy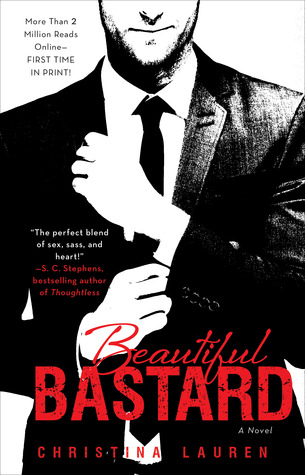 An ambitious intern. A perfectionist executive. And a whole lot of name calling.
Whip-smart, hardworking, and on her way to an MBA, Chloe Mills has only one problem: her boss, Bennett Ryan. He's exacting, blunt, inconsiderate—and completely irresistible. A Beautiful Bastard.
Bennett has returned to Chicago from France to take a vital role in his family's massive media business. He never expected that the assistant who'd been helping him from abroad was the gorgeous, innocently provocative—completely infuriating—creature he now has to see every day. Despite the rumors, he's never been one for a workplace hookup. But Chloe's so tempting he's willing to bend the rules—or outright smash them—if it means he can have her. All over the office.
As their appetites for one another increase to a breaking point, Bennett and Chloe must decide exactly what they're willing to lose in order to win each other.
You would not believe the hype that has surrounded this book pretty much ever since it came out. SO many people have told me to read this book and I finally sat down and read the whole thing in one day. While I was definitely wary of the plot when I began reading it, I'm so happy I finally picked it up!
Ever since Chloe Mills started working for Bennett Ryan, he has been nothing but a jerk to her. A beautiful jerk, but a jerk nonetheless. No matter how rude he is, though, Bennett and Chloe work well together and Chloe is almost finished with her final project to get her MBA. When Bennett comes back from France to work for his father's company, he does not need an irresistible and infuriating woman as his assistant. One hot moment together, though, and Bennett finds himself finally giving into his lust and shocking Chloe. Chloe is surprised by the lust she feels in return for Bennett, but they both know nothing good can come out of an office romance between two people who claim to loath one another…
In the beginning, I was so skeptical of this book. Not even TEN PAGES into this book, Chloe talks about how much she hates her boss and how he's so mean to her, and then WHAM, they're hooking up. That was fast. I was very concerned about the pacing and understanding Bennett's character, but then we got a chapter from Bennett's perspective and I absolutely loved him. I think that having the POVs of both main characters was so important for this story and made me really love it. I appreciated how headstrong and determined Chloe was and how she didn't want to take any free rides to completing her project and landing a job once she got her MBA.
What I also really loved about this book was how much Chloe and Bennett infuriated one another, but they just couldn't resist one another. If you enjoy a good enemies to lovers romance, as well as an office romance, you are going to LOVE this one. These two have to work in a professional setting while hating each other, but also while trying to resist one another. It was so entertaining and I really loved seeing Bennett's perspective and why he was so hard on Chloe. His family was so fun and I loved how they gave him such a hard time about how he treated Chloe.
Overall, I am so happy I still gave this book a chance and continued with Chloe and Bennett's story. I loved both of them so much and how driven and dedicated they were to their jobs. They are also both such stubborn people, so it was fun watching them work together and start some sort of relationship together. Any fan of office romances HAS to pick up Beautiful Bastard!