The Score (Off-Campus #3)
By Elle Kennedy
Release Date: January 11, 2016
Source: Amazon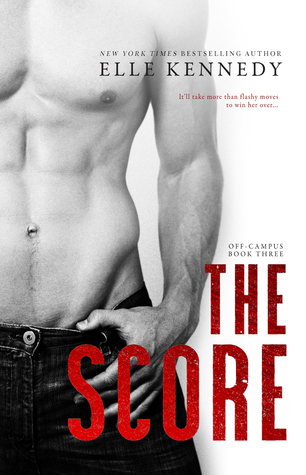 He knows how to score, on and off the ice
Allie Hayes is in crisis mode. With graduation looming, she still doesn't have the first clue about what she's going to do after college. To make matters worse, she's nursing a broken heart thanks to the end of her longtime relationship. Wild rebound sex is definitely not the solution to her problems, but gorgeous hockey star Dean Di-Laurentis is impossible to resist. Just once, though, because even if her future is uncertain, it sure as heck won't include the king of one-night stands.
It'll take more than flashy moves to win her over
Dean always gets what he wants. Girls, grades, girls, recognition,
girls
…he's a ladies man, all right, and he's yet to meet a woman who's immune to his charms. Until Allie. For one night, the feisty blonde rocked his entire world—and now she wants to be
friends
? Nope. It's not over until he says it's over. Dean is in full-on pursuit, but when life-rocking changes strike, he starts to wonder if maybe it's time to stop focusing on scoring…and shoot for love.
I feel like I want to start off every review for a book by Elle Kennedy complaining about how amazing Elle Kennedy's books are. Seriously. A.Maze.Ing. I fell in love with Garrett's story in The Deal and have only fallen more and more in love with my hockey men with each passing book.
Dean Di-Laurentis is a lady's man and isn't at all ashamed of his title. He's been with all kinds of girls and loves every one of them, but after one wild night with his best friend's girlfriend's best friend Allie Hayes, Dean finds his mind wandering back to her. Allie is a relationship kind of girl and is trying to stay strong after breaking up with her boyfriend. A one night stand with Dean is the last thing she had wanted to have, but the more Dean pursues her after their crazy night together, the harder Allie finds it to resist. But can she really have a no strings attached fling with someone like Dean?
Ummmm, can we take a moment to talk about how freaking addicting Dean Di-Laurentis is? Unlike the first two books in this series, Dean goes through something pretty emotional and hits a personal low. I mean, there was real emotion in this that I didn't find in the first two books and it absolutely broke my heart. I loved how cocky and self-assured Dean was, even when he was freaked out about how much he was feeling for Allie. He literally couldn't get Allie out of his mind and while he wasn't sure how to feel about being hung up on a girl for once, he went all out and did everything to have another night with Allie. While it started out purely physical, I loved how they started to actually talk and become friends.
In The Mistake, I wasn't the biggest fan of Grace, the main girl of the book, but I freaking loved Allie's character in The Score. She was so real with herself and could totally handle a guy like Dean. Her devotion to her dad was sweet and I admired the way she dealt with Dean when he hit that low point in his life. It was fun to see her wild side when she was with Dean and the laugh out loud moments they had together. Oh my gosh, and Dean was freaking hilarious at some points. I actually had my sister read parts that I was laughing at because they were too funny not to share.
If you're a fan of new adult and haven't read this series yet, what are you doing with your life?!? Elle Kennedy creates delicious men, headstrong girls, and some insane chemistry that flies off the pages. I am already dying for another book and I've read two in the past two months. I need more hockey men in my life!