This is a meme hosted by
Breaking the Spine
where every Wednesday bloggers highlight a book that they are eagerly anticipating the release of!
By Emery Lord
Release Date: April 5, 2016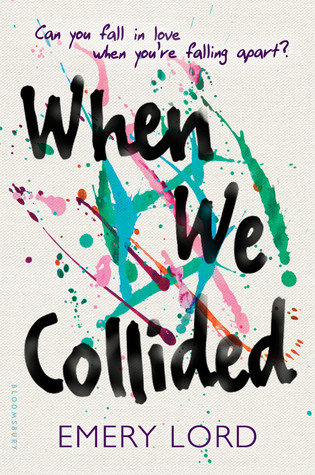 Meet Vivi and Jonah: A girl and a boy whose love has the power save or destroy them.
Vivi and Jonah couldn't be more different. Vivi craves anything joyful or beautiful that life can offer. Jonah has been burdened by responsibility for his family ever since his father died. As summer begins, Jonah resigns himself to another season of getting by. Then Vivi arrives, and suddenly life seems brighter and better. Jonah is the perfect project for Vivi, and things finally feel right for Jonah. Their love is the answer to everything. But soon Vivi's zest for life falters, as her adventurousness becomes true danger-seeking. Jonah tries to keep her safe, but there's something important Vivi hasn't told him.
Perfect for fans of E. Lockhart and Jandy Nelson, When We Collided is a powerful story of two teens whose love is put to the test by forces beyond their control.
----------------------------------
EMERY LORD HAS A NEW BOOK. Holy moly words cannot even begin to describe how excited I am for this. I am OBSESSED with
Open Road Summer
and I really enjoyed
The Start of Me And You
. I can't wait to see what she has in store for us in
When We Collide.
I absolutely love how this one sounds like the main couple gets together pretty early on in the story, but are tested throughout the rest of the book. Can you tell I'm excited? Well, I'm excited :) April can't come soon enough!