By Syrie James
Release Date: August 5, 2014
Source: Publisher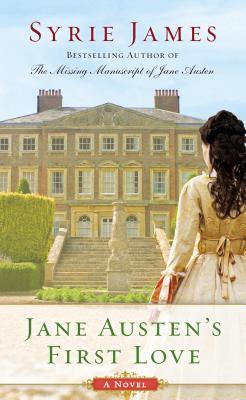 Summary:
Fifteen-year-old Jane Austen dreams of three things: doing something useful, writing something worthy, and falling madly in love. When she visits her brother in Kent to celebrate his engagement, she meets wealthy, devilishly handsome Edward Taylor—a fascinating young man who is truly worthy of her affections. Jane knows a match between her and Edward is unlikely, but every moment she spends with him makes her heart race—and he seems to return her interest. Much to her displeasure, however, there is another seeking his attention
Unsure of her budding relationship, Jane seeks distraction by attempting to correct the pairings of three other prospective couples. But when her matchmaking aspirations do not all turn out as anticipated, Jane discovers the danger of relying on first impressions. The human heart cannot be easily deciphered, nor can it be directed or managed. And if others must be left to their own devices in matters of love and matrimony, can Jane even hope to satisfy her own heart?
Review:
I am absolutely obsessed with Jane Austen, so I couldn't have been more excited to read this book. I've seen the movie Becoming Jane where she falls in love when she's 20, but I was interested to read more about her earlier life and supposed "first love."
Jane Austen is 15 years old and not yet out in society. When her sister Cassandra is finally old enough to come out, Jane can't help but feel jealous as she's left at home, never to find that grand love she enjoys writing and imagining about. So when Jane has the opportunity to go to Kent and attend balls and parties in honor of her brother's engagement, Jane couldn't be more excited. There, Jane meets Edward Taylor, an intriguing young man who seems every bit as adventurous as she is. Even though there are other interested parties in Edward's affections, Jane attempts to take matters into her own hands and see if she can find the love she's only dreamt of having.
There's a reason I love Jane Austen, and Syrie James reminded me of every single on of them. First, the time period. I love how the families are so involved in who is allowed to court who, which makes going after who you really like that much more difficult. Jane may have liked Edward, but that doesn't mean that other families didn't have their eye on him for their own children. The second thing I love is the society as a whole. Who wouldn't love to get dressed up for a ball or have a huge party just to go strawberry picking? Life just seemed so much more fun back then and Syrie James truly brought Jane's world alive.
Not only was Jane's world vividly described, but so was her life. I know that Jane was very close with her sister Cassandra, so it was nice seeing just how close those two really were in this novel. Then, it was fun to see how imaginative Jane was and how much she loved to write. Overall, I really enjoyed getting to know my favorite author when she as 15 and simply observing the world around her. I was worried that this would feel too juvenile seeing as the main character is 15, but Jane is too smart and observant to be juvenile. I loved seeing the world through her eyes and watching her fall in love for the first time and attempting to play matchmaker, which we learned from Emma doesn't always work out.
I think that any Jane Austen fan will enjoy this
historical
novel. While it was a bit slow in places, I loved getting lost in Jane's world that was beautifully captured by Syrie James. Jane is such a fun character, and so are all of the unique people she runs across during her stay at Kent. I am truly impressed that Syrie James could create the fantastic world of my favorite author.
Syrie James
, hailed by Los Angeles Magazine as the queen of nineteenth century re-imaginings, is the bestselling author of eight critically acclaimed novels, including
The Missing Manuscript of Jane Austen, The Lost Memoirs of Jane Austen, The Secret Diaries of Charlotte Bronte, Nocturne, Dracula My Love, Forbidden,
and
The Harrison Duet: SONGBIRD
and
PROPOSITIONS
. Her books have been translated into eighteen foreign languages.
In addition to her work as a novelist, Syrie is a screenwriter, a member of the Writers Guild of America, and a life member of the Jane Austen Society of North America. An admitted Anglophile, she loves romance and all things 19th Century. To learn more about Syrie, check out her website at www.syriejames.com.