What a Duke Dares (Sons of Sins #3)
By Anna Campbell
Release Date: August 26, 2014
Source: Netgalley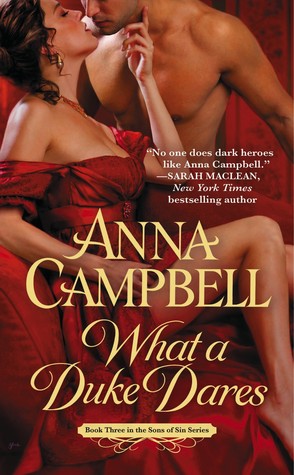 Summary:
What woman in her right mind would say no to marrying the dashing Duke of Sedgemoor? Miss Penelope Thorne, that's who. She's known Camden Rothermere since they were children-and she also knows she'd bring nothing but scandal to his name.
Cam can hardly believe Penelope turned down his proposal. But if she wants to run off to the Continent and set the rumor mill ablaze, he can't stop her. Then her brother's dying request sends him to bring home the one woman he thought he'd finally gotten over.
The only way they'll both get back to London without their reputations in tatters is to pretend they're married during the journey. That means kissing like they mean it and even sharing a bed-until it becomes hard to tell where the game ends and true desire begins . . .
Review:
As much as I love and read historical romances, I've never picked up a book by Anna Campbell. But when I saw the gorgeous cover of What a Duke Dares and read the summary, I knew I had to pick this one up.
When Miss Penelope Thorne denies the proposal of her childhood friend and Duke of Sedgemoor Camden Rothermere, Cam is astonished by the rejection. Nine years later, Cam still feels the sting of her rejection as Pen spends that time running around the Continent with a blazing trail of scandalous rumors in her wake. So when Pen's brother Peter's dying wish is for Cam to locate Pen and bring her back to London safely, Cam finds himself immersed into Pen's world again. In order to escort her to London, though, Cam and Pen must pretend they are married to avoid scandal. Pen has always had feelings for Cam, but can she let him have her when she know he could never love her?
Right from the start, Pen and Cam have quite the interesting relationship. Pen is completely in love with Cam, but knows that he has given up on love long ago and could never love her. Even though she'd love nothing more than to marry him, she can't put herself into a loveless marriage. So right away, there is some intense conflicting emotions in Pen and Cam's relationship. Then, when they have to pretend to be married, Pen shuts herself off from Cam in order to act like the perfect wife she thinks he wants. Of course, Cam is a clueless man who has no idea why Pen acts so stiff and strange as his wife, when she was so headstrong and endearing before they "married." Just because Pen loves Cam doesn't mean that their pretend relationship is going to be absolutely perfect and Cam will fall in love with her instantly. No, Cam and Pen have to face the real journey of forming a relationship that isn't based on love. That doesn't mean, though, that they can't work towards something more…
Not only was the relationship between Cam and Pen very realistic for the historical time period, but I loved the added side story of Harry, Pen's brother, and Sophia. Harry is known for his rakish ways, but when he falls for Sophia, he can't think of anything else except for marrying the love of his life. During that time, though, people didn't marry for love, and Sophia is already promised to a rich man who would provide great connections for her family. Harry has to find a way to win Sophia, which means enlisting the help of Pen when she's back in England. The various romances in this book prove how love isn't enough on it's own for a relationship. While the constant miscommunication, or complete lack of communication, about their feelings for each other in Pen and Cam's relationship became a bit redundant as the story continued, I really enjoyed their struggle to enjoy marriage to each other without fully accepting their love for each other; they really have to work out how they truly feel before they can be happy.
As my first Anna Campbell novel, I loved the characters and story she created in What a Duke Dares. The primary and secondary romance story ones were enjoyable and created a much more dynamic novel. Pen was definitely a relatable main character with her confident exterior while feeling vulnerable and alone on the inside. I can't wait to catch Anna's other novels and read about even more intriguing and realistically historical romance novels.
Always a voracious reader, Anna Campbell decided when she was a child that she wanted to be a writer. Once she discovered the wonderful world of romance novels, she knew exactly what she wanted to write. Anna has won numerous awards for her Avon historical romances including Romantic Times Reviewers Choice, the Booksellers Best, the Golden Quill, the Heart of Excellence, the Aspen Gold and the Australian Romance Readers Association's most popular historical romance (twice). Her books have twice been nominated for Romance Writers of America's prestigious RITA Award and twice for Australia's Romantic Book of the Year.
When she's not writing passionate, intense stories featuring gorgeous Regency heroes and the women who are their destiny, Anna loves to travel, especially in the United Kingdom, and listen to all kinds of music. She lives near the sea on the east coast of Australia, where she's losing her battle with an overgrown subtropical garden.
Tour Giveaway
Five lucky winners will receive a copy of
What a Duke Dares
by Anna Campbell. Just fill out the rafflecopter below! ***US only***