The Risk (Briar U #2)
by Elle Kennedy
Release Date: February 18, 2019
Source: Author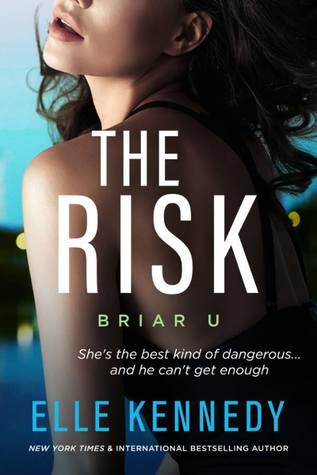 A sexy standalone novel from New York Times and international bestselling author Elle Kennedy. THE RISK takes you back to the world of hot hockey players, feisty heroines, bro banter, and steamy scenes...
Everyone says I'm a bad girl. They're only partly right—I don't let fear rule me, and I certainly don't care what people think. But I draw the line at sleeping with the enemy. As the daughter of Briar's head hockey coach, I'd be vilified if I hooked up with a player from a rival team.
And that's who Jake Connelly is. Harvard's star forward is arrogant, annoying, and too attractive for his own good. But fate is cruel—I require his help to secure a much-coveted internship, and the sexy jerk isn't making it easy for me.
I need Connelly to be my fake boyfriend.
For every fake date…he wants a real one.
Which means this bad girl is in big trouble. Nothing good can come from sneaking around with Jake Connelly. My father would kill me, my friends will revolt, and my post-college career is on the line. But while it's getting harder and harder to resist Jake's oozing sex appeal and cocky grin, I refuse to fall for him.
That's the one risk I'm not willing to take.
Every time a new Elle Kennedy book comes out, I always want to drop everything and devour the book in one sitting. While real life did get in the way of this dream, I was able to devour this book in a couple of days and fall in love with Brenna and Jake's story.
Brenna is used to disappointing her father, no matter how hard she's tried to make a life for herself by getting into Briar and keeping good grades. When the opportunity of a lifetime comes to interview for a hockey news-casting program, her dream job, Brenna will do anything. Including flirting with the enemy. Jake Connelly knows Brenna only needs him to help land her the job, but he can't help but try to get her to see their chemistry and try for something real, even though they're sworn hockey enemies.
From the very first page, I was obsessed with the banter between Brenna and Jake. They knew they were on opposite sides of a hockey rivalry, but that didn't stop them from pushing each other's buttons and playing games. I had a huge grin on myself as they flirted and danced around each other. Jake Connelly was soooooo swoon worthy and I definitely fell for him while reading this book.
While the romance was amazing and I was 100% invested, I loved how there were so many other people who were important in the characters' lives. I loved the conflict Brenna was having with her dad and the crew of characters who were friends with Brenna and Jake. Brenna and Jake not only had to think about themselves and their own relationship, but they also had to think about how their decisions and action would affect their friends and loved ones. I also loved seeing Summer and Fitz again!
Elle Kennedy is the queen of sports romance and she nailed it again with The Risk. With swoon-worthy and infuriatingly lovable hockey players, the romance in this book was just perfect. There was also enough hockey to satisfy my sport cravings. There was just so much to this book and I loved every second if it. If you haven't yet, you need to start this series so you can fall in love with Brenna and Jake too!