Fight or Flight
by Samantha Young
Release Date: October 9, 2018
Source: Publisher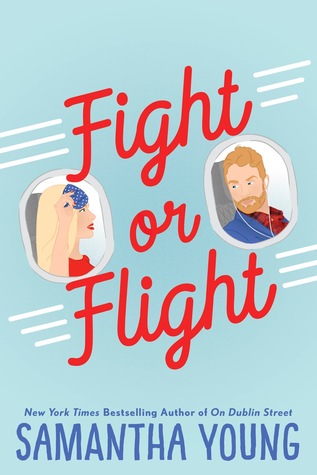 A series of chance encounters leads to a sizzling new romance from the
New York Times
bestselling author of the On Dublin Street series.
The universe is conspiring against Ava Breevort. As if flying back to Phoenix to bury a childhood friend wasn't hell enough, a cloud of volcanic ash traveling from overseas delayed her flight back home to Boston. Her last ditch attempt to salvage the trip was thwarted by an arrogant Scotsman, Caleb Scott, who steals a first class seat out from under her. Then over the course of their journey home, their antagonism somehow lands them in bed for the steamiest layover Ava's ever had. And that's all it was--until Caleb shows up on her doorstep.
When pure chance pulls Ava back into Caleb's orbit, he proposes they enjoy their physical connection while he's stranded in Boston. Ava agrees, knowing her heart's in no danger since a) she barely likes Caleb and b) his existence in her life is temporary. Not long thereafter Ava realizes she's made a terrible error because as it turns out Caleb Scott isn't quite so unlikeable after all. When his stay in Boston becomes permanent, Ava must decide whether to fight her feelings for him or give into them. But even if she does decide to risk her heart on Caleb, there is no guarantee her stubborn Scot will want to risk his heart on her....
Samantha Young is an auto-buy author for me, and when I saw that she had a new romance about a brooding Scotsman, I was DYING to get my hands on this. I was ready for a fun romance and that's exactly what I got!
All Ava Breevort wants to do is get home and leave the disaster of a trip behind her. But when an infuriating Scotsman named Caleb Scott does everything he can to ruin her return home, Ava will not take it any more. Their bickering turns into one steamy layover, though, Ava is determined to forget about the man who drives her insane but who clicked with her like no one ever has. That's hard, though, when Caleb shows up in Boston for a more permanent stay. Ava doesn't want to lose Caleb from her life, but she doesn't know what to do when the boundaries start to blur...
From the very beginning of this book, I had a huge grin on my face while I watched Ava and Caleb absolutely detest each other. I loved their bickering and how brooding Caleb was. Ava was just such a fun character and I loved the entire time they met and danced around each other when they first met.
Just like any romance where the main characters try to keep things casual, things got very dicey when real feelings started to become involved. I really enjoyed how insecure Ava felt and how they both tried to deal with their feelings when they had agreed to never have those for one another. We got to understand the characters' background stories as they got to know each other and I really enjoyed seeing those tender, vulnerable moments between them along with the fun, light-hearted moments.
Fight or Flight is easily one of my favorite books I have read this year. I needed a fun romance at the time that I read this and that is exactly what this was. I'm ready to hop on a plane and find myself a infuriating, but also caring and sweet Scotsman of my own!