Cracked Kingdom (The Royals #5)
by Erin Watt
Release Date: March 1, 2018
Source: Book Signing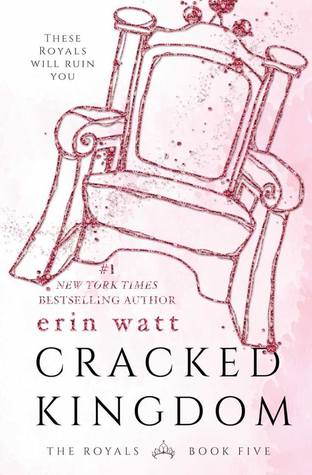 These Royals will ruin you.
Ever since Hartley Wright met Easton Royal, her life hasn't been the same. There are enemies behind every corner and dangers beyond each door. When tragedy strikes and steals her memories, she can't trust anyone, not even the blue-eyed boy who promises her that everything will be all right.
Because while Hartley's memory is full of gaps, her instincts tell her Easton is dangerous. She doesn't know if he's the snake in the garden or her chance at salvation. The chaos he brings wherever he goes is too much to handle, the intense feelings he evokes are too confusing to unravel.
Easton wants her to remember. Hartley thinks it's better to forget.
She might be right.
Tragedy. Treachery. Trust.
Hartley has to face the facts—in this world, you can't escape the Royals.
Either you live by their rules or you die by them.
I put off reading this book for so long (well, at least for me), because I did not want one of my favorite series to end. I couldn't wait to read more about Easton's story and watch everything come together in the end.
Hartley's life changed the moment she popped up on Easton Royal's radar. But when Hartley loses her memory, she cannot believe a guy like Easton Royal had ever given her the time of day. Easton will do anything for Hartley to get her memory back and remember who she had become in that past year. He has to let her remember on her own, though, or risk losing her forever.
I have to say, when the whole Hartley losing her memory thing came along at the beginning of this book, I was slightly annoyed. I really hate that trope and realized we were going to go through the whole book watching Hartley relearn what her life is. This meant, though, that we literally relearned everything from the previous book that we already knew. I wanted something new and not just a rehash of what I'd already read.
While this was the conclusion of the Royal series, I felt like there was SO MUCH LEFT UNEXPLAINED. Like, what was up with the twins?! They acted super weird and it was only glossed over and never fully explained. A secret about Easton was just tossed out there with no real reaction. And the ending felt super rushed and thrown out there to create some tension and a conclusion.
This was probably my least favorite book of the series, but nothing can ever change my love for the Royals and their journey in this series. I still gave this one a four star rating because I absolutely love this world and these characters. The execution of this finale, though, didn't feel like a finale and left a lot unsaid.