Birthday Girl
by Penelope Douglas
Release Date: April 17, 2018
Source: Author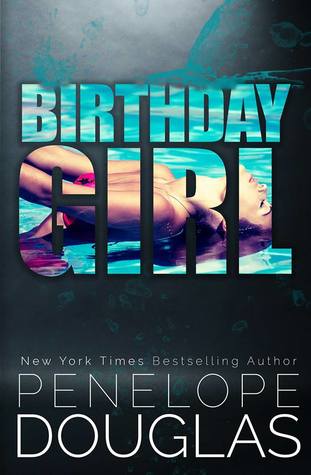 JORDAN
He took me in when I had nowhere else to go.
He doesn't use me, hurt me, or forget about me. He doesn't treat me like I'm nothing, take me for granted, or make me feel unsafe.
He remembers me, laughs with me, and looks at me. He listens to me, protects me, and sees me. I can feel his eyes on me over the breakfast table, and my heart pumps so hard when I hear him pull in the driveway after work.
I have to stop this. It can't happen.
My sister once told me there are no good men, and if you find one, he's probably unavailable.
Only Pike Lawson isn't the unavailable one.
I am.
PIKE
I took her in, because I thought I was helping.
She'd cook a few meals and clean up a little. It was an easy arrangement.
As the days go by, though, it's becoming anything but easy. I have to stop my mind from drifting to her and stop holding my breath every time I bump into her in the house. I can't touch her, and I shouldn't want to.
The more I find my path crossing hers, though, the more she's becoming a part of me.
But we're not free to give into this. She's nineteen, and I'm thirty-eight.
And her boyfriend's father.
Unfortunately, they both just moved into my house.
The moment Penelope Douglas dropped the news that this book was coming out, I was DYING to get my hands on it. I didn't care that it wasn't the next book in the Corrupt series; it was a forbidden romance and I was ALL FOR IT.
When Jordan and her boyfriend, Cole, can't afford their apartment anymore, they find themselves moving in with Cole's dad. The very man who makes Jordan feel cared for, cherished, desired. While they both know their feelings are wrong, it feels too good to not be right.
I am always wary going into big age gap books because I hate when they're not done well (this one is 19 years). I have only read a handful of them that I've been all in for. Seeing as this is Penelope's book, I had no doubts that I would be OBSESSED with this relationship. Since it is a forbidden romance, seeing as Jordan is dating the son of the man she's actually attracted to, the romance was so slow burn and there was so much chemistry. I was DYING for Jordan or Pike to just finally make the first move and see if their chemistry was as explosive as they were feeling.
The other aspect of this book that made the age gap okay for me was how the attraction grew and how the relationship progressed. Jordan and Pike's relationship was so realistic and they had real highs and lows that tested their relationship. Also, Pike never acted like the creepy older guy lusting after the teenager. He really saw Jordan as an equal, unless Jordan was playing with him and poked fun at his age, and Jordan was so mature for her age. They just balanced each other so well, so I wasn't bothered by their age difference at all. Jordan knew what it was like to have to work hard for a living and had to grow up fast in her own life, so I found myself not even realizing there was such a big age gap between them.
Once again, Penelope Douglas absolutely nailed it with this sexy, emotional, and addicting forbidden romance. Unlike her most recent books, this one was just a romance between a guy and a girl who wanted to be together. It had a much lighter tone that what we've been getting and it was just the book I needed to become obsessed with. If you haven't yet, BUY BIRTHDAY GIRL. Everyone needs a man like Pike in their lives.