Folsom (End of Men #1)
by Tarryn Fisher and Willow Aster
Release Date: May 29, 2018
Source: Amazon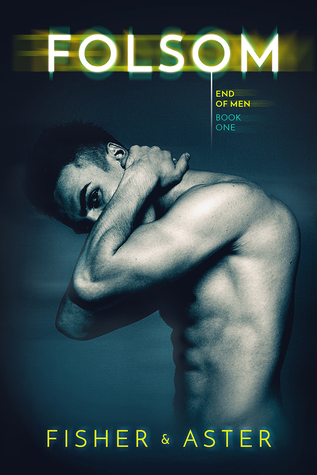 The nation as we know it is a thing of the past.
With the male species on the verge of extinction, a society called the End Men is formed to save the world. Folsom Donahue is one of twelve men whose sole purpose is to repopulate the Regions. The endless days spent having sex with strangers leaves Folsom with an emptiness no amount of women, money, or status can fill.
Until Gwen.
Gwen has wanted a child for as long as she can remember, but when she finally gets a chance to have her own, she uncovers a long hidden truth. The injustice she sees moves her to help save the men whom no one else believes need saving.
A forbidden love, grown in a time of despair, ignites a revolution.
Folsom and Gwen, torn between their love for each other and their sense of duty, must make a choice. But some will stop at nothing to destroy them.
As soon as I read the synopsis for this book, I was super intrigued. I never read dystopian romances, but I had a good feeling that this was going to be a book I wasn't going to be able to put down!
In a world where males are running out, the remaining fertile males are known as The End Men and their sole job is to help repopulate the earth. Folsom is used to keeping up his rigorous schedule of at least three appointments a day and father hundreds of children. When it's time to impregnate Gwen, though, Folsom feels things he's never felt for any woman he's been with before. Gwen has wanted a child for so long, but once she meets Folsom, she's not so sure she can live with her society that does not treat men like the human beings they are. But the government is much stronger than Gwen and Folsom could have ever imagined.
While I was reading this book, I was getting such Handmaid's Tale vibes and I was loving every minute of it. It was so cool reading about a society almost solely made up of women and how they mentioned things that men have done to the female population in the past. This society was so interesting and I loved seeing the new dynamics and what would happen in a world where there really were so few men.
I really enjoyed Gwen's character and how caring she was compared to the other women in her life. From the moment she met Folsom, I felt their feelings for one another and watched their relationship grow into something so much more. Since this is a dystopian novel, I was kept on my toes for this whole book and was freaking out about what was going to happen next. And that ending!?!? Like, WHAT. Ugh, I am already dying to get my hands on book two to figure out what happens to these characters.
I've definitely never read something like Folsom and I think everyone who wants a unique romance should pick this book up. There's a forbidden romance, mystery, and suspense and you won't be able to put this book down!