Long Shot (Hoops #1)
by Kennedy Ryan
Release Date: March 22, 2018
Source: Author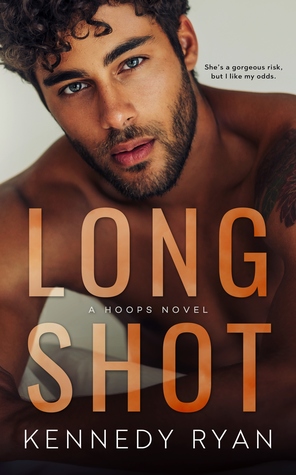 A Standalone FORBIDDEN LOVE SET IN THE EXPLOSIVE WORLD OF THE NBA...
Think you know what it's like being a baller's girl?
You don't.
My fairy tale is upside down.
A happily never after.
I kissed the prince and he turned into a fraud.
I was a fool, and his love - fool's gold.
Now there's a new player in the game, August West.
One of the NBA's brightest stars.
Fine. Forbidden.
He wants me. I want him.
But my past, my fraudulent prince, just won't let me go.
As you guys may know, I'm a HUGE sports romance fan, so when I heard about this basketball romance coming from Kennedy Ryan, I couldn't wait to get my hands on it. Little did I know, this would be SO MUCH more than a sports romance and it would be AMAZING.
The moment August laid eyes on Iris, he couldn't ignore the instant attraction. The chemistry. The feeling like they'd known each other their whole lives and were meant to be. Too bad she was someone else's girl.
Holy moly. This book. Wow. I was in love with this story from the first page, but it turned serious very quickly and I was still hooked. I will say there is domestic abuse in this story, so go in knowing that. What these characters go through is heartbreaking and I was SO IN LOVE with August. Seriously, he was one of the sweetest, most perfect heroes I've read about in awhile. It was so sad watching him love Iris and having no idea why he couldn't have her.
Honestly, there isn't much more I can say without spoiling this story. I loved all of the characters that were in Iris's life and how, even though a lot of time passes throughout this story, the pacing was perfect and we got to see the characters grow and change with life. I couldn't get enough of these characters and am so excited that this is a series!
If you've been hearing hype about this book, trust me, it is so well deserved. The romance will break your heart and make you swoon all within the pages of this book. I can't recommend Long Shot enough!