This is a meme hosted by
Breaking the Spine
where every Wednesday bloggers highlight a book that they are eagerly anticipating the release of!
Top Ten Clues You're Clueless
By Liz Czukas
Release Date: December 9, 2014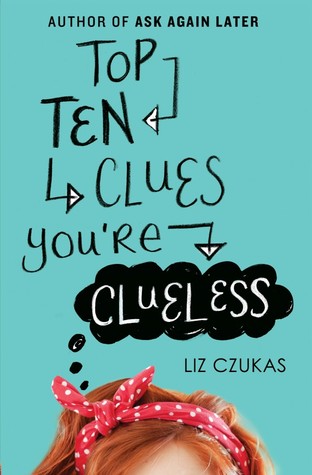 Summary:
Top Five Things That Are Ruining Chloe's Day
5) Working the 6:30 a.m. shift at GoodFoods Market
4) Crashing a cart into a customer's car right in front of her snarky coworker Sammi
3) Trying to rock the "drowned rat" look after being caught in a snowstorm
2) Making zero progress with her crush, Tyson (see #3)
1) Being accused—along with her fellow teenage employees—of stealing upwards of $10,000
Chloe would rather be anywhere than locked in work jail (aka the break room) with five of her coworkers . . . even if one of them is Tyson. But if they can band together to clear their names, what looks like a total disaster might just make Chloe's list of Top Ten Best Moments.
--------------------------------------
First off, how cute is that cover? I love how simple, yet completely appealing it is. If I saw this in a book store, I'd definitely pick it up! Reading the summary, this sounds like the perfect fun YA novel to devour in a day. Chloe seems to be having a pretty rough day where nothing is going her way. Throw in a trip to jail, and things can't get much worse. But hey, at least she's there with Tyson, the guy she just so happens to be crushing on. It looks like this book is full of totally relatable moments with Chloe and a funny story that will be just too cute not to love.