By Maya Banks
Release Date: August 5, 2014
Source: Publisher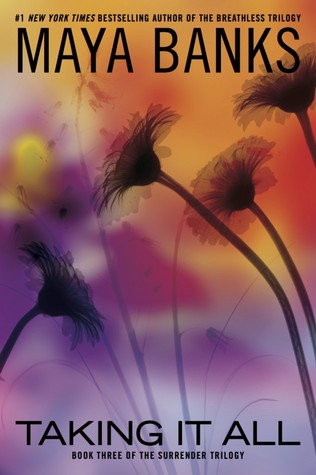 Summary:
Chessy and Tate have been married for several years. In the beginning, their relationship was everything she wanted. Passionate. All consuming. She offered her submission freely and Tate cherished her gift with a tenderness that made her feel safe. Content. Wanted. And loved beyond all measure. But as the years have gone by, Tate has become more immersed in making his business the success it has become, and Chessy has taken a back seat to his business obligations. Growing unhappier with the status of their once blissful marriage, Chessy knows that something has to give. Or they stand to lose it all
Tate loves his wife. Has always loved her. Providing for her has always been his number one priority. But lately she's seemed unhappy, and he's worried. Worried enough that he arranges for a night together that he hopes will reignite the fire that once burned like an inferno between them.
But a business call at the wrong time threatens everything. Chessy's safety, his concentration, his wife's faith in him as her husband, a man sworn to love and protect her above all else. Gutted with the realization that he's going to lose her—has already lost her—he readies for the fight of his life. Whatever it takes, he'll get her back. And prove to her that nothing is more important than her love. And that if she'll allow him to prove himself one more time, he'll take it all. Everything. But he'll give far more back. Himself. His undying love.
Review:
No matter what genre she writes in, Maya Banks completely steals my heart, creating characters that are impossible not to fall in love with. I have been waiting for Tate and Chessy's story since book one and, wow, finally reading this book was definitely worth the wait!
Chessy and Tate have been married for years, madly in love with each other. Tate has taken on the role as Chessy's dominant and they both love their relationship. For the past two years, though, Tate has become immersed in his work, leaving Chessy neglected and lonely. Tate absolutely loves Chessy, but he's let his desire to provide for her override his attention towards her. Chessy is miserable and when she finally confronts him, Tate is determined to fix his mistakes. But can they really change two years of hurt that easily?
Oh. My. Gosh. Wow, this book was definitely hot and heavy. We've known since book one that Chessy hasn't been happy in her relationship. Since Tate was so busy with work, we haven't gotten to know him in the past books as well as we've gotten to know Chessy, so it was definitely great being able to see how much he really loved Chessy and just wanted to make her happy. Tate definitely puts no stops in trying to get the passion and flame back in their relationship after the shock of hearing how unhappy Chessy had been. I loved how we got to see the couple work through the troubles after already being with each other for five years. No relationship is perfect and both of them learned that they had to be honest and open in order to make their relationship work.
The other great part of this book? Both Joss and Kylie appear again and we get to see how their relationships have progressed as well. We got to see how they first got together with their respective partners in their own book, but now we get to check in and see that their relationships are much more than just physical. Going back to the main story, though, we wee just how perfect Chessy and Tate are for each other. Their relationship can definitely have some hot and passionate moments, which makes you want their relationship to truly work out. No matter how perfect they are physically for each other, though, they definitely have to figure out how to make it work out in the real world.
What more can I say? Maya Banks brings back the characters we love while giving us the passion and romance we can't get enough of. Chessy and Tate were the perfect couple to end this fabulous trilogy with because their relationship is truly put to the test and they need to find out how to make each other both happy. While I'm sad to see the series end, I couldn't have asked for a better ending.
I have one copy of Taking It All to giveaway! Just enter the rafflecopter below! Ends 8/11 ***US ONLY***